Rihanna's Fashion Label With LVMH Is Officially Happening (& It's Dropping Soon)
Noam Galai/Getty Images Entertainment/Getty Images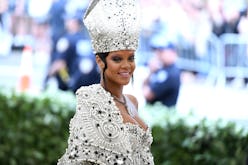 It's been months since rumors first cropped up about Rihanna possibly launching a luxury fashion label with LVMH. Now, at long last, they're confirmed to be true. The singer has just become the first woman in history to coin a brand at the prestigious, mulitnational conglomerate.
Rihanna will already go down in history for all the immensely bold fashion statements she's made over the years (the singer truly knows how to start a trend), but on Fri., she made an even bigger impact by adding a slew of firsts to the fashion world.
LVMH is the Paris-based luxury goods corporation (named for Moët Hennessy — Louis Vuitton) that oversees Bulgari, Givenchy, Fendi, Veuve Clicquot, and other high-end brands. It hasn't launched a fashion line from scratch since 1987 — Christian Lacroix — until Rihanna came along.
With the momentous collab, the singer will become the first woman to create a brand at LVMH, as well as the first female of color to head an LVMH maison. This will be the company's first fashion house built from the ground up in 30 years.
The weight of the moment is not lost on Rihanna, either, who posted a humble response to the announcement on Instagram, along with the new Fenty logo.
"Big day for the culture," she wrote in the caption, "Thank you Mr. Arnault for believing in this little girl from the left side of an island, and for giving me the opportunity to grow with you at @LVHM. This is proof that nothing is impossible. Glory be to God."
Already, Rihanna has developed a beauty collection and lingerie under her signature brand, but this time, a press release says the latest installment of Fenty will include ready-to-wear, accessories, and shoes.
The singer snuck a little preview (that her loyal fans picked up on immediately) in Jan., when she sported a pair of sunglasses with Fenty engraved on the temples. Later that week, it was revealed that LVMH was already securing employees from Louis Vuitton and Celine to aid the music legend in launching a luxury fashion house under their esteemed corporation.
While it's unclear when exactly the music legend's inaugural collection will drop, it sounds to be very soon. According to the statement, you can expect to see Spring 2019 designs appear on the brand's digital platform, Fenty.com, in the coming weeks, so get your closet (and wallet) ready.