Reese Witherspoon Just Wore This Major It-Girl Brand On "Big Little Lies"
Hbo/Kobal/Shutterstock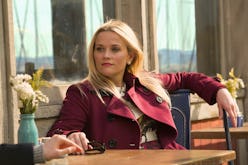 In the role of fiery Madeline Martha Mackenzie, Reese Witherspoon manages to make one of Big Little Lies most outspoken and temperamental characters likable, funny, and, most importantly, relatable. The latter trait was most evidenced in last night's episode when Witherspoon wore a floral blouse by the brand every it-girl is loving right now.
In a tense scene in which Witherspoon's Mackenzie character confronts Meryl Streep's equally dynamic Mary Louise Wright while wielding an ice cream cone in a sidewalk stand-off, one couldn't help but notice the actor's navy blue blouse with a vibrant floral print. Look familiar? That's because it's from Maje, the French brand that's stolen the hearts of the style set — not to mention the cast of Big Little Lies. In the scene, Witherspoon paired the top with a black knee-length skirt and pumps, which felt equally whimsy and professional. (Also, fun fact: The scene was actually longer and included Witherspoon throwing her ice cream at Streep, but was cut last-minute. Le sigh.)
The latest appearance of Maje's button-down on the small screen just proves the brand's versatility and growing popularity. It also proves the power of a classic floral blouse. A solid workwear staple, the piece pairs perfectly with a pair of trousers, pencil or A-line skirt (á la Witherspoon), or even a pleated wide-leg short. And for those moments you want to let your hair down, throw your floral top on with a pair of wide- or straight-leg denim for some sophisticated, yet laid-back style.
Here's the bad news: Witherspoon's exact top is no longer available as it's from a past collection. However, the good news is that Maje offers plenty of updated similar options that will strike the same perfect balance of sweet and chic. It also serves the same versatile purpose outlined above. And if you want some more variety in your summer blouse inventory, there are plenty of other brands jumping on the floral top bandwagon.
So if you're looking to recreate the Witherspoon/Mackenzie magic seen on BLL (sans the Streep showdown), ahead, The Zoe Report rounded up several worthy options that will get you on her page. Ice cream cone not included.