Reese Witherspoon Proved This Summer Staple Will Never Go Out Of Style
Emma McIntyre/Getty Images Entertainment/Getty Images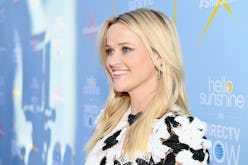 Your favorite celebs are holding on to summer for as long as possible right now — and they're doing it with their impeccable outfit choices. Even though fall is nearing, warm-weather ensembles are still reigning supreme in the street-style world, because there are still technically four weeks of summer left. In other words, keep those cozy sweaters and thermal-lined leggings packed away for a little while longer, and instead, consider sporting a chambray dress like Reese Witherspoon's for the remainder of Aug.
It's easy to feel like you've exhausted all your outfit options during the last few weeks of any season — but in reality, there are some super simple ways to liven up those pieces you've been donning for the past three months. Witherspoon, for example, recently stepped out for a family brunch in the quintessential summer staple that just won't quit: a classic chambray dress, which she instantly jazzed up with unique accessories.
On Aug. 18, the Big Little Lies actor was photographed out and about in L.A., after enjoying a brunch in Malibu with husband Jim Toth and their son, Tennessee. Casual-cool was the name of the style game for the family breakfast jaunt, with Toth opting for green cargo pants, a crisp white tee, a baseball cap, and slides.
Witherspoon looked the epitome of summertime chic in a chambray dress from, you guessed it, her Draper James line. The medium-wash frock — rendered in 100 percent cotton — features a ruffled neckline, a removable waist belt that allows you to change up the silhouette, and last but certainly not least, pockets (yes, pockets on dresses are a game-changer).
Chambray dresses offer up plenty of styling possibilities, with Witherspoon taking a summer-cool approach with hers. This year's ultimate comfort shoe (i.e., a pair of sneakers) grounded her look and proved, yet again, that the footwear-and-frock combo isn't going anywhere anytime soon. A wide-brim straw hat — another of-the-moment accessory the celeb set seems to be sporting nonstop — topped off the look (literally).
So, hold on to summer for as long as you can by shopping The Zoe Report's roundup of Witherspoon-inspired dresses, including the exact Draper James number she wore for her recent Aug. outing.
Shop The Look