Here's Everything You Need To Know About R+Co's Upcoming Black Friday Sale
R+Co/Instagram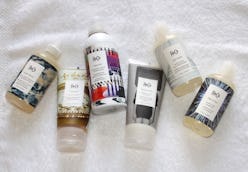 You're probably willing to spend much more than you'd like to admit to ensure good hair days are in your future. But if you put R+Co's 2019 Black Friday sale on your calendar, you won't have to dip into your savings this season. The three-day sale is stopping by to help you shave dollars off everything you could ever want for your hair — because the entire site will be up for grabs at lower than usual prices.
When the biggest shopping day of the year, aka Black Friday, comes back around on Nov. 29, cult-loved hair care line R+Co is putting its entire site on sale. Every single price tag will be slashed by 25 percent through Dec. 1, so long as you wield special code BLACK25 at checkout. That means you get to shop to your heart's content with no worries about any exceptions getting in the way.
Grab bestsellers that practically guarantee good hair days, like moisturizing must-have HIGH DIVE Moisture + Shine Cream, down to $21.75, and hydration-rich ATLANTIS Shampoo and Conditioner, also $21.75 each on Black Friday. Extend your styles with DEATH VALLEY Dry Shampoo, $24 on sale, and strengthen and perfect your strands with R+Co's new TELEVISION Pefect Mair Masque, $31.50 with the code.
Just in case Black Friday gets the best of you, the brand is also holding a Cyber Monday sale — and the savings are just as good. On Dec. 2, R+Co is offering 25 percent off the whole site (again, no exclusions), so long as shoppers remember to plug in code CYBER25 when they're checking out with all their chosen items.
Love R+Co's range of hair-loving products? Prepare your Black Friday shopping cart by browsing some must-buys, below.
Editor's note: This post has been updated from its original version.