Rachel Zoe's Winter 2019 Box Of Style Includes A Diamond Necklace
Courtesy of Box of Style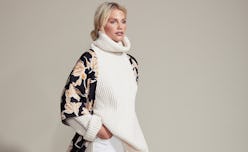 This is not a drill. Rachel Zoe's just-released Winter 2019 Box of Style contains a pave diamond necklace. Not only is it perfect for wearing alone, or layering with literally any other piece of jewelry you own, it's the ultimate treat-yourself find for the upcoming holiday season. Because, let's face it, incessant hinting often falls on deaf ears, so you may as well just buy your own diamonds.
Designed by Andrea Fohrman, the delicate necklace featured in the $99.99 quarterly subscription service has an adjustable strap so you can wear it as tight or loose as you want, which is particularly helpful when wearing winter layers. "The holidays are a time to be decadent, whether you're buying gifts or treating yourself to something special, I think diamonds are always the perfect choice," explains Zoe who herself is never seen without a healthy smattering.
The necklace sits alongside four other carefully curated items chosen by Zoe for her members, who also get access to exclusive perks like the Box of Style Boutique which offers 60 percent off a wider array of her favorite things. Think elegant agate coasters and cozy, oversized scarves. Read on for everything else in the Winter 2019 Box of Style.
The Ultimate Layering Piece
Versatile pieces are the linchpin of every Box edition, according to Zoe, which is why this slinky longline robe was chosen. "You can wear it at home as you're getting ready to go out, or layer it over a chunky knit and jeans for added flair when entertaining or running errands," says the designer, who loves to wear it over a black blouse and dark denim. It also doubles as a dress when belted closed under an oversized sweater with over-the-knee boots, making it worthy of a spot in your carry-on if you're heading out of town for the weekend.
The Subtle Smoky Palette
The holiday party circuit can be trying for even the most social of butterflies, which is why you'll sometimes find yourself reaching for a go-to outfit and elevating it with makeup and jewelry. In those instances, this to-go palette provides everything you need to craft a subtle, shimmery lid or a sultry smoky eye. "I designed both of these as part of my new collection for LORAC, and my members get to choose between a warm or cool shadow palette," explains Zoe. She's partial to the inky black for her signature evening look.
The Luxe Skincare
It's no secret that the winter months are harshest on our skin. "All of the travel, freezing winds, and over-heated offices take such a toll on my skin, so a super-hydrating and calming anti-aging moisturizer is always on heavy rotation for me," says Zoe, who selected Estée Lauder's Revitalizing Supreme+ Global Anti-Aging Cell Power Creme for the Box. It's super creamy, includes moringa extract, which helps boost collagen production, and the gleaming gold jar looks great on the vanity.
The Woodsy Fragrance
Who needs an excuse to light a fragrant candle? "I constantly have candles lit when I'm at home — they're great for creating a relaxing atmosphere, and make any space feel more inviting when hosting guests," says Zoe. The amber, pine, and sandalwood Ethics Supply Starry Night Candle she chose for the winter edition is inspired by the Great Basin National Park and is hand-poured in California, where Zoe calls home. "The best part is you can recycle it for holding makeup brushes when it's done!" Versatile indeed.
The Diamond Pendant
Featuring a delicate pave diamond oval on a gold-plated chain, the dainty pendant necklace is the kind you spot on an acquaintance and then frantically search for online. "I love that it is understated enough to be wearable everywhere from your workout to the office, but is quietly luxe," says Zoe. It's perhaps an unexpected choice by someone known for a maximalist approach to style, but it's in keeping with the ethos of her subscription membership. "I want to provide women everywhere with versatile, everyday items they can enjoy wherever they are, whatever their busy lives look like," says the stylist. She's hit the nail on the head, because you'd be hard pressed to find anyone who wouldn't want diamonds.
Get yours, or sign up a friend as their holiday gift, here.