How Rachel Brosnahan Does High-Low Skincare
Emma McIntyre/Getty Images Entertainment/Getty Images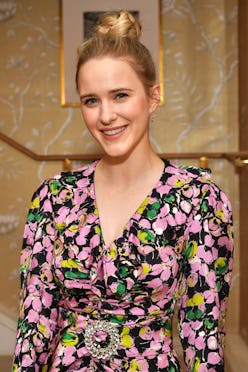 My quality time with Rachel Brosnahan earlier this month didn't kick off with the predictable niceties and compliments — though we did discuss how extraordinary her two-tone lace-up boots were. Instead, it began with a conversation about the mutual fear of finding out from a 23andMe analysis that we've once dated our cousins. "It's something that legit happens!" she jokingly told me. The exchange was nothing less than what I'd expect from the television funny woman and considering that there are very few shows that have left me stuck to my living room couch like The Marvelous Mrs. Maisel, getting the opportunity to chat Rachel Brosnahan's beauty routine and her partnership with Cetaphil on Oct. 2 in New York City was one I couldn't pass up.
"I've been using Cetaphil for 10-plus years. My mother introduced me to it when I was 16 years old," Brosnahan, the first-ever celebrity face of the brand, tells TZR. "I was over-treating kind of simple issues with my skin, and I love that all the products are gentle, they keep moisture locked in." And unlike many skincare products, Brosnahan feels that the reach of the 71-year-old brand surpasses that of the other Insta-friendly ones. "You have to find something that works for you; there's no guide to skincare. But I love that this line has always had something that works for a lot of different people." She's used the brand so much — namely the Gentle Skin Cleanser — that she's developed a little hack: "You can use it with or without water," she says. "I wear a lot of makeup for work and sometimes my skin just gets angry... so I just put it on a cotton round and wipe it straight off."
While the conversation about skincare and ancestry services could have gone on for hours (yes, that moment was just as kindred as it sounds), it was learning about her similarities to Midge, how she juggles sensitive skin, and her fingers-only makeup routine that truly proved Brosnahan is a beauty icon for anyone who just can't be bothered.
On Managing Sensitive Skin
Though it's hard to tell, years of over-treating has left Brosnahan with extremely sensitive and temperamental skin. The struggles are something she only recently learned to manage. "I found something that works for me and I try not to deviate from it very much. It was a journey finding the products that worked for me, and I've pretty much stuck to it," she says.
And while the drugstore favorite will always be her go-to, the incorporation of a few prestige products has proven to be a beautiful marriage as Brosnahan admits to being obsessed with the Vintner's Daughter Botanical Serum and Drunk Elephant Glycolic Serum for a daily boost of radiance. However, it's one of New York City's most notable facialists who the star credits for saving her skin during its freak-outs. "For the last couple of years, Joanna Vargas has been my beauty guru and my queen. She has seen me at my very worst," she reveals. "We shot in Miami this season for Maisel and it was 12 thousand degrees and humid, and my skin just ate all the makeup I had on my face. I was not in great shape when I returned from Miami and she was like 'Ooh boy,' but she brought me back to life."
Most surprising is Brosnahan's inclination toward ingestible beauty, something most with sensitive skin shy away from. "I've had lifelong stomach issues that were largely unexplained and a set medic that I worked with told me about black cumin seed oil. You can use it on your skin as well as on your scalp and you can take it orally. I've been taking it orally and it's great. It has really strong antibacterial and inflammatory properties and that's been a life-saver internally and externally."
On Her Similarities To Midge
Tune into just the first episode of The Mysterious Mrs. Maisel, and you'll immediately be taken aback by Midge's fairly outrageous beauty routine. After her husband tucks away to sleep, she sneaks out of their bed to remove her makeup and place her hair in rollers, all while waking up before him to be completely done up once he arises. The Stepford Wives-esque act satirizes the extreme lengths women will go to be perfect for their significant others. However, that's surely not Brosnhan's life.
"They're pretty much polar opposites," she says about her and Midge. "I like my regimen to be short and simple, to use as few products as possible. I think Midge is a more is more kind of girl. Despite that, it's important to know that while we're polar opposites in our approaches to skincare, that we're both doing what makes us feel the best, what makes us feel powerful, what makes us feel purposeful, it's a testament that it's truly different for everyone."
And that same approach is carried over into Brosnahan's makeup routine, which include lots of multi-use products and the most effective applicator of all: her fingers. "I tend to gravitate toward things that can be used multiple ways, in the back of a taxi, on a subway, etc. I love the fingers, so the RMS concealer pots are great, and I have the little kit from them that has the concealer, the luminizer, and the blush lipstick duo all-in-one, so that stays in my purse. If I need a little more coverage, like if I'm having a breakout moment, I'll use the NARS Creamy Concealer, and when it comes to lashes, I swear by the Chanel volumizing mascara."
On Breaking Free From Her Comfort Zone
Though Brosnahan had historically strayed from color in her makeup routine, constantly wearing red on set has changed her approach. "I guess it's always symbolized in my mind confidence and power and I appreciate it even more now. I've worn a lot more red since being on the show, being on the red carpets and in my own life," she says. "As a longtime New Yorker, black was kind of my go-to. But my fondness for it has grown."
When she does wear the color off set, she entrusts her glam squad, particularly makeup artist Lisa Aharon, to make it work. "Just the other week for a photoshoot she was like 'Would you hate me if I did red eye makeup?' and I loved it, but I couldn't do it on myself."
Shop Cetaphil