This Mango Piece Has Been A Staple In Queen Letizia's Royal Wardrobe Since 2015 (& It's So Easy To See Why)
Carlos Alvarez/Getty Images Entertainment/Getty Images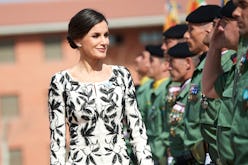 You know that one item of clothing you can't seem to part with after five years because it's the easiest outfit you've ever owned and it just so happens to magically suit any given dress code? That's Queen Letizia's navy jumpsuit. The royal's go-to one piece has been a staple in her wardrobe since 2015.
The ever-stylish Queen of Spain attended a series of scientific talks called Famelab on Tues. She made her entrance at Madrid's Gran Maestre Theatre wearing one of her all-time favorite pieces from Mango.
Her Royal Highness has an undying affection for affordable clothes. She might have a closet full of high-end designer pieces — including Hugo Boss and Carolina Herrera — but just because the former journalist wears a crown now doesn't mean she's above her old-school favorites, Zara and Mango.
There are a few pieces in particular she's been relying on for years and this sleek jumpsuit is one of them. The short-sleeved piece, featuring a zip-front neckline and polished pants with subtle pleats, seems to be a fit for any occasion.
She originally debuted it during a visit to the National Library back in March 2015.
The first time she wore it, she accessorized with gold statement earrings, strappy sandal heels, a wide metallic belt, and a matching clutch.
Queen Letizia then sported it again just one month later (with the same belt and heels) to the Literature Awards. Since then, she's given the piece a slight upgrade by trading in the wide belt for a super-thin black one.
New accessories — black Carolina Herrera slingbacks and diamond earrings — gave the versatile number a modern touch. Her BVLGARI jewels, by the way, are worth nearly $20,000, and she wore them with a Mango jumpsuit because she's the Queen and she can do whatever she wants.
Get yourself one of these wear-anywhere jumpsuits and you'll be thankful for years to come. Ahead, The Zoe Report's favorites, all for less than $100.
Shop The Look