'90s-Inspired Sandals Are Everywhere Right Now — Queen Letizia's Latest Outfit Is Proof
Carlos Alvarez/Getty Images Entertainment/Getty Images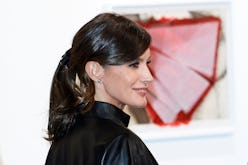 Those strappy sandal heels you used to wear to middle-school dances have risen from their '90s grave and they're taking the fashion world by storm. Forget the chunky trend (another throwback to that same era), these delicate little floss heels are in. Queen Letizia's black strappy heels are the perfect example of how to make them wearable.
She and King Felipe VI just wrapped up their State Visit to Buenos Aires. The trip was a chance for the Spanish royals to strengthen their relationship with the president and first lady of Argentina and, as usual, Queen Letizia brought along her delightful fashion sense.
Her Royal Highness seemed to have packed a suitcase full of bold pieces, including a monochromatic orange pantsuit by Zara and a floral-embroidered silk dress that was made just for her by Carolina Herrera.
And as if the red strapless Roberto Torretta cocktail dress she wore on Weds. wasn't stylish enough on its own, Queen Letizia managed to incorporate a pair of very trendy shoes into it, too.
Her Manolo Blahnik sandal heels were a nostalgic nod to old-school footwear that's just now coming back into style. The strappy shoes that ruled the '90s are re-emerging on the runway and turning up on the shelves of all your favorite stores. You won't be able to resist them for much longer.
PVC — which Queen Letizia's shoes also incorporated, though you can barely see it — had its moment in the spotlight last year, sparking an obsession with so-called "naked shoes." Now, floss heels (you know, the super-thin strappy kind) are the latest version of the trend.
These minimalist stiletto sandals have been featured in spring collections by Rejina Pyo, Isabel Marant, and Alexa Chung. Though they come in all kinds of colors and silhouettes — with eccentric beaded heels, ankle ties, and the like — Queen Letizia's are a perfectly subtle starting point for beginners.
Ahead, a few of The Zoe Report's favorites to help you get acquainted with the trend.
Shop The Look