Hate Jumpsuits? Queen Letizia's Latest Outfit Will Change Your Mind
Manuel Queimadelos Alonso/Getty Images Entertainment/Getty Images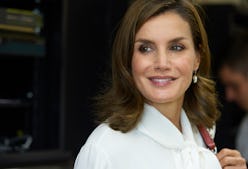 If you were to read Queen Letizia's resumé, it would probably say something like: journalist-turned-Spanish royalty, fashion enthusiast, and illusionist (after the stunt she just pulled). Her Majesty was quite the magician on Thurs., fooling everyone into thinking her outfit was a dress. It's safe to say Queen Letizia's blue jumpsuit made a convincing case, too.
The 46-year-old attended an event for Scholarships for Masters and Research Aids wearing a — brace yourself — $20 jumpsuit dress. The shockingly inexpensive long-sleeved Zara number is made of azure chiffon. It features a frilly neckline, ruffle appliqué on the elbows, and a pleated skirt that wasn't actually a skirt at all.
In fact, the one-piece was a jumpsuit with flowy culottes cut just below the knee. Around her waist was a wide black-ribbon belt tied in a tidy bow. Queen Letizia completed the look with a black leather clutch and teal heels to match her blue-hued dress.
It's the perfect piece for all those who aren't exactly partial to a jumpsuit, seeing as it looks and feels just like a loose and comfortable dress. As for Queen Letizia, she loves a good pair of trousers and a dress just the same, so this pretty cobalt number was a combination of all her favorite things.
Just like you, the Queen can't seem to get enough Zara in her closet. She wears the down-to-earth brand constantly (and so do fellow royals Kate Middleton and Meghan Markle, too). Most recently, she sported a Zara snakeskin-print midi skirt to a trade show on Jan. 18.
Unfortunately for you, both the skirt and her latest jumpsuit are currently sold out on the retailer's website. There are, however, plenty of dress-like jumpsuits out there to help you steal the royal's look. Some of The Zoe Report's favorites, ahead.
Shop Jumpsuit Dresses