Queen Letizia Just Nailed Meghan Markle's Signature Hairstyle
WPA Pool/Getty Images Entertainment/Getty Images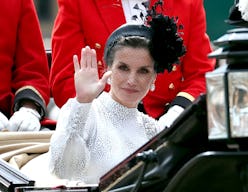 Fresh from a visit with the British royals, this Spanish monarch seemed to have taken a little souvenir back home with her: one of the duchesses' hairstyles. A major departure from her usual polished look, Queen Letizia's rendition of Meghan Markle's signature low bun is the updo her hair rotation has been missing. Perhaps this tousled look will become a mainstay for more than one royal.
After mingling with Kate Middleton at the Royal Ascot, the Queen of Spain is back at her palace in Madrid, celebrating the Order of the Civil Merit on Weds. alongside King Felipe and the couple's two children.
Upon her homecoming, Queen Letizia sported a cornflower blue dress with colossal Bulgari diamond-drop earrings. Although her royal highness rarely pulls her hair back — typically wearing it in a sleek, straight lob — the flashy bling demanded a rare updo moment and the Queen did not hesitate to oblige.
She took the opportunity to add another royal style to her repertoire. Her brunette hair was parted slightly to the side and swept into a messy bun at the nape of her neck, leaving wispy, wavy pieces hanging around her face like the Duchess of Sussex so often does.
Markle wears this hairstyle so frequently that after marrying into the Windsor clan, it became a symbol of the duchess' immediately-iconic style. The low bun is like a permanent fixture in her wardrobe — her best accessory, you could say — and perhaps now it'll be a pillar in Queen Letizia's morning routine as well.
The best part for us commoners is that you don't need an entire glam squad to recreate this imperfect updo. Simply pull yesterday's unkempt curls into a relaxed twist and you'll be looking like a right royal all day long. Products to help you through the process, ahead.
Shop The Products