Kate Middleton Made Some Changes To Her Royal Ascot Dress To Make It Protocol-Approved
Chris Jackson/Chris Jackson Collection/Getty Images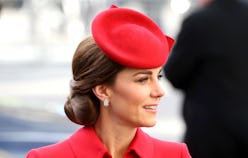 The duchess' Disney princess looks never get old. Kate Middleton in her blue Royal Ascot dress was like a modern-day Cinderella at the ball. What you can't tell just by looking at it, though, is that she had a few alterations done in order for it to meet royal protocol.
Tues. marks the official first day of Royal Ascot, which means dukes, duchesses, princes, princesses, kings, and queens alike are all dressed to the nines and sipping Prosecco at the Ascot Racecourse in England.
A day after debuting a Princess Diana-inspired coatdress while mingling with fellow royal trendsetter Queen Letizia, Kate Middleton arrived at the races in a dreamy baby-blue gown. She came in a horse-drawn carriage that she shared with her stepmother-in-law, Camilla — as if you needed more proof that she really is a real-life Cinderella.
Hailing from Elie Saab's Resort 2019 collection, her mid-length dress features a pleated tulle skirt, a darling tie neckline, lace detailing, and polka-dotted sheer overlay. It's about time the royal tapped into this Lebanese fashion designer who's known for his fairytale-esque designs.
Middleton finished the look with metallic silver pumps, a floral-adorned hat by Philip Treacy, and monochromatic drop earrings from her go-to jeweler, Kiki McDonough.
While the off-the-rack version of this whimsical dress is just as stunning, it certainly would not have met the Queen's standards for modesty. As you know, Middleton takes the royal dress code seriously (whereas Meghan Markle has been known to bend the rules a time or two).
The original Elie Saab number boasted a sort of bohemian aesthetic with its long and flowy sheer skirt, extra-wide short sleeves with lace trim, a wide waist belt with a golden buckle, and a bow that was nearly knee-length. The duchess' alterations basically just polished the dress up to better suit a formal event.
Middleton added puffy tulle under the skirt — which she shortened to shin-length — to make it less transparent and to give it that A-line silhouette she loves. She had a foot or so of ribbon chopped from the pussybow and extended the sleeves to a dress shirt length. Lastly, the royal eschewed the belt altogether, letting the built-in cinching give the gown shape.
Altogether, the duchess' subtle changes transformed the dress from garden fairy to storybook princess without losing any of its fanciful flair in the meantime. It's safe to assume that Elie Saab approves.