This Is Why Proenza Schouler Will Be In Every Cool Girl's Closet Next Season
PIXELFORMULA/SIPA/Shutterstock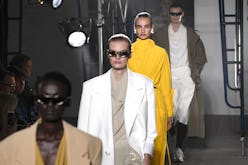 If the Proenza Schouler woman in your mind is all about tie-dye and combat boots, designers Jack McCollough and Lazaro Hernandez reminded us last night in New York what the brand is truly all about: clothing that women can feel powerful in. Hitting the tricky intersection between trendiness, luxury, and wearability has always been the label's je ne sais quoi, but for Spring/Summer 2020, Proenza Schouler's runway focused on sharp suiting, oversized contrast lapels, and elegantly draped midi-dresses that welcome a sophisticated customer while not alienating a younger one.
Both the styling and the looks themselves leaned toward polished with a touch of edge, often in the form of oversized gold hoops, razor-sharp black sunglasses, or '80s shoulder pads. An eighties resurgence has continued to creep its way into various shows this season; in fact, just a few hours prior at Coach, Stuart Vevers showed his interpretation of '80s New York — but Proenza Schouler was sure to approach it with less graphic, Saved by the Bell-era prints and more clean lines, pointed shoulders, and pleated pants. And even the full suits and dressier gowns were grounded in real-world ways, with one model in heels carrying a Birkenstock sandal in tow (from an upcoming collaboration between the two labels) — a nod to the commuter shoe that didn't go unnoticed.
In fact, it was the kind of show that not only gets gears turning on what pieces will catch on like wildfire, but that will also dictate an entire aesthetic in the upcoming season; similar to how Daniel Lee's Bottega Veneta has gotten an entire slew of bloggers into its square-toe heels, simple form-fitting dresses, and leather clutches. In a matter of months, you'll be seeing them in neutral power suits with big, gold hoops and black sunnies, too.
Sure, on a commercial level it may seem that PS1 bags and lace-up booties are the clear winners for the brand, but this collection proves its genuine capability for more — for dictating a full look women want to wear, even if that means leaving the boots behind in exchange for a strappy, padded leather heel. After all, in a post-Phoebe Philo era, the fashion customer is craving a Philo-esque, feminine sophistication, and there's no question McCollough and Hernandez have stepped up to the plate. They're seasoned and ready to lean into their customers' on-the-go lifestyle, while catering to the modern woman who's signing contracts at noon, posting an #OOTD at 3pm, and grabbing a cocktail by 9pm, all in the same professional yet Insta-worthy look. Instead of going the curly mullet and blue eyeshadow route, Proenza proved its nod to the '80s is very much meant for modern day.
After a shuffle from New York to Paris, and then back to New York, the duo seems to be narrowing tightly in on the who the Proenza woman is — but not boxing her in, either. The closing song, Lesley Gore's "You Don't Own Me" was an anthem for the brand's sophisticated, suited-up clan of power women, and it's only a matter of time before cool girls everywhere follow suit in both style and mentality.