This '80s Trend Will Be Big For Spring If Coach's Runway Is Any Indication
WWD/Shutterstock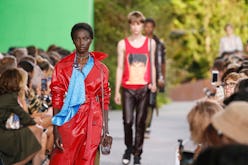 New York has its share of spectacular venues, but the High Line, a refurbished raised subway platform that now serves as a weekend tourist destination, is one that's particularly beloved. For its Spring/Summer 2020 show, Coach took over a portion of the plant-studded walkway and staged a sunset fashion show that embraced American nostalgia through the ages. As guests sipped on fruity-flavored cocktails, models — both men and women — donned a mix of nostalgic staples, and unsurprisingly, plenty of leather.
"The start of a decade. Change, urgency and raw, authentic energy," read the show notes. "Real, grounded, connected — open to the infinite possibilities of a fresh decade." While the vision is turned to the future, it's a reminder that all is informed by the past. So what does this foreshadow for the dawn of 2020?
For one thing, to celebrate the brand's history, designer Stuart Vevers took a look back through the archives at Coach's 78-year history to help inspire his new designs — including 78 distinct bag styles. But the bags were just one element of a leather-heavy runway. Head-to-toe leather has become a popular choice for many brands over the last few seasons, but Coach is particularly poised to pull it off since the material ties back to the brand's legacy of creating bags since its beginnings in 1941.
The Spring/Summer 2020 collection also embraces a playful approach to fashion, with bright swipes of high-saturation color and poppy illustrations in collaboration with Richard Bernstein, an artist who rose to fame in the '70s and '80s for his celebrity illustrations that frequently ran on the cover of Interview. "The brand's heritage graphically subverted with vibrant color," the show notes explain. "The electric attitude of New Wave — and today's new New Wave." In that vein, Barbara Streisand made an appearance on more than one top and so, too, did Rob Lowe. There was even a kale-green sweater emblazoned with a splashy orange shrimp across the front and a Martini-print sweater vest. And so, a brand often associated with a grungy, downtown aesthetic finds a groove in a little bit of lighthearted fun.
But, at its core, Coach's greatest strength is in its accessories — namely its bags. Many of the silhouettes presented this season were simple and straightforward, but therein lies their beauty. They were small, but not so teeny-tiny you were limited to a single credit card or perhaps your keys. They could easily be layered together (as seen above) without seeming to clash or obstruct one another. And women and men alike walked with shoulder bags that easily fit the style of whoever the wearer may be. As for shoes, the collection was practical, focused mainly on flats and sneakers ideal for commuting.
In addition to the brand's signature bags and leather pieces, the collection was heavy on utilitarian pieces, with cargo jackets, vests, and skirts all making appearances on the runway. Nearly every leather-heavy piece was finished with a secured D-ring belt at its back, as though the wearer decided a belt's purpose should be supremely aesthetic. Even the bright yellow, pink, and green dress-coats that appeared in succession while not inherently cargo, had a utilitarian element thanks to a row of snaps across the front, a belt, and convertible neckline. It was polished, yet practical — a theme throughout the entire Spring/Summer 2020 collection.