Everything You Need To Know About PHAs, Skincare's Buzziest Acid
Sephora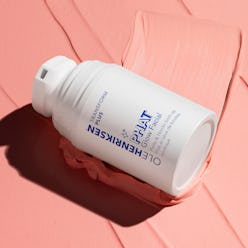 If you have rosacea, eczema, or otherwise sensitive and reactive skin, you may have resigned yourself to life devoid of exfoliation. That's totally fine — your skin self-exfoliates in a process known as desquamation, so skipping that step isn't the end of the world. But for those who can't help but crave the feeling of a freshly-buffed face, dermatologists say there is a way to slough away dead cells without irritating your skin, and it comes down to polyhydroxy acids — aka PHAs, the exfoliating acid of the moment.
"Polyhydroxy acids are the en vogue acids these days, and hold their own with other well-known acids," Dr. Rita Linkner, MD, a board-certified dermatologist with Spring Street Dermatology, tells The Zoe Report. Those "other well-known acids" include beta hydroxy acids (BHAs), like salicylic acid, and alpha hydroxy acids (AHAs), like glycolic and lactic acids. "BHAs and AHAs are very useful ingredients in skincare products, but they can be irritating and drying," Dr. Jennifer Vickers, MD, a board-certified dermatologist with Sanova Dermatology, tells TZR. That's where PHAs come in. "PHAs are second-generation AHAs and consist of larger molecules, thereby limiting penetration to more superficial layers of the skin when compared to AHAs or BHAs," Dr. Vickers says. "This reduces the potential for irritation or over-drying."
The core benefits of PHAs are pretty much in line with any type of exfoliation: "These acids can help brighten the skin and improve texture and tone," according to Dr. Vickers, who adds that eliminating excess dead skin cells helps your other skincare products penetrate deep into pores, "thus improving efficacy and results." But polyhydroxy acids come with some unique perks, too.
Dr. Rachael Cayce, MD, a dermatologist at DTLA Derm in Los Angeles, notes that PHAs have "beneficial anti-aging effects" and possible "antioxidant benefits" in an email to The Zoe Report. "Because PHAs stick to the surface of the skin, they act as humectants, drawing water to themselves, similar to the way hyaluronic acid does," Dr. Linkner adds. "This strengthens the surface of the skin and protects it from outside elements." To be clear, an exfoliant that also plumps and strengthens the skin's barrier is pretty much unheard of, so sensitive-skinned beauty enthusiasts aren't the only ones who can benefit from a dose of PHA. I mean, who wouldn't want fewer dead skin cells and barrier protection in a single swipe? Another bonus: "Because they penetrate more superficially, PHAs are less likely to cause sun sensitivity than the first generation AHAs," per Dr. Vickers.
Sadly, some skin will still be too sensitive for PHAs. Like any other acid, this one has the potential to cause dryness, irritation, redness, and peeling if used on compromised skin, or if used too frequently. (Dermatologists agree you shouldn't exfoliate more than once or twice a week, no matter how tough your skin is.) PHAs do mix well with other actives, and even other acids — "It's very common to see PHAs combined with certain anti-aging active ingredients that are known to be irritating, like hydroquinone or retinoic acid, so that they counterbalance those caustic effects by protecting and hydrating the surface of the skin," Dr. Linkner says — but again, mixing-and-matching isn't advised if you're prone to irritation.
"PHAs are not as available or commonplace as AHAs and, for that reason, are not used as often," Dr. Cayce says — but that's slowly changing. New arrivals like Olehenriksen PHAt Glow Facial Mask and Glow Recipe Avocado Melt Retinol Eye Sleeping Mask are putting PHAs on the map.
To find PHAs out in the wild, scour ingredient labels for the words "gluconolactone, galactose, or lactobionic acid," Dr. Vickers says. Or, just shop the nine PHA picks below.
Shop PHA Skincare