Amazon Just Rolled Out A New Feature To Make Shopping For Clothes Even Easier (& More Tempting)
Courtesy of Amazon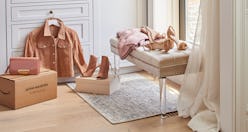 If you've ever longed for help sorting through Amazon's seemingly endless clothing selection, your wish is about to come true. The online retailer announced July 30 that it's introducing a new personal stylizing service, named Personal Shopper by Prime Wardrobe. And yes, the perk is exclusively available to Amazon Prime members — so you have yet another excuse to sign up if you haven't already.
As you may expect, the mega-retailer has completely streamlined the online styling process. Through the Amazon app, shoppers create a "Style Profile" via an online survey, which includes describing your personal style, favorite brands, fit preferences, and shopping budget; at the moment, Personal Shopper is available for women's apparel in sizes 0 through 24, XS through XXL and 3X, and shoe sizes 5 through 12. From there, Personal Shopper curates one "styling" each month — a process which costs an extra $4.99 for Prime users. You get to choose up to eight pieces from Personal Shopper's lineup to see in person, and they're delivered right to your doorstep for free.
Which is when the real fun begins. You have 7 days to try on the pieces before returning anything you don't want via a prepaid shipping label and a resealable box included in the original delivery. Personal Shopper users will only pay for pieces that they choose to keep and add to their closets.
It seems as if the service will only get better the longer you use it, as well. After each month, shoppers are invited to leave feedback about the pieces picked out for them, whether it's rave reviews or recommendations for the next styling — you can even make a request to receive specific pieces (or avoid certain colors and trends entirely).
This information is then processed by an algorithm and real-life stylists, letting you get the best of both worlds. "Our fashion stylists come from varied backgrounds in the fashion, retail, editorial, styling, and creative fields," Amazon noted online in the Personal Shopper description. "They are trained to select items and styles based on fit, color, styling, seasonal, and current trends."
Ready to be styled? Visit Amazon's blog to read more about how Personal Shopper by Prime Wardrobe works, or click on over to the Amazon app to start filling out your Style Profile.