Copenhagen's Coolest Influencer Says This Is How To Style A Suit
Christian Vierig/Getty Images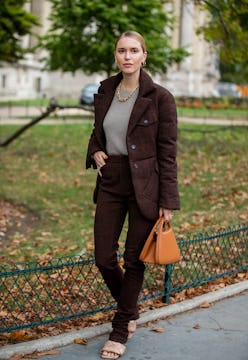 There's only a handful of women who can claim to be an original "influencer," and who hold rank as real, inspired trendsetters of the fashion industry. Danish multi-hyphenate Pernille Teisbaek sits among those defining style in 2019 just as readily as she did when she started her blog Look de Pernille in 2012. Teisbaek's personal style toes the line between trendy and minimalist. Her ensembles are polished and laid-back all at once. And you can count on street style photographers capturing snaps of her sleek ensembles and signature (and equally sleek) blonde hair in New York, Milan, Paris, and of course Copenhagen.
Teisbaek has set herself apart as a champion for emerging and on-the-rise brands, serving as an early adopter of local labels like Saks Potts and Ganni but also being among the first to jump on the recent Bottega Veneta craze. As the founder of influencer marketing agency Social Zoo, Teisbaek is finding new ways to leverage her personal knowledge of the industry, working with up-and-coming influencers while also establishing partnerships with major brands like Kate Spade and Cartier. And now, facilitated by Mango, she's sharing her shopping advice to help you embrace winter dressing anew.
Right now, the influencer cites the power suit as a must-try, "I have been collecting blazers for years and finally feels good to pair it with pants and a loafer," she says. Scroll through her Instagram, and it's clear that a tailored two-piece ensemble is a key component of her everyday wardrobe. Embracing a more for-the-boys style of suiting — oversized and relaxed both in the pant and shoulder — is the 2019 way to make the trend feel fresh. "I've always been into layering, she adds. "I would work in layers and make it interesting with different textures and tones."
While she prefers to keep the color story simple — "I'm into army green, beige, and gray," she says — the mix of different neutrals in wool, silk, and other heavier cool-weather fabrics keeps the look from feeling too perfect and polished. It's the modern idea of workwear, and an ideal starting place as you expand your own seasonal wardrobe. From there, swapping in jeans or throwing a trench coat on top are easy ways to reinvent the same look over again.
Now, you have the building blocks for your own ensemble, but where to go from there? "I'm living in my Bottega Veneta boots," Teisbaek says of the brand's ultra-trendy Chelsea boots. "But, right now I'm also excited about a pair of brown loafers from Ganni," she explains (Teisbaek has worked with the brand as an influencer in the past). She also suggests topping the look off with a coat, since odds are an additional layer will be needed if you plan on spending any time outside. "I recently bought an old Céline shearling coat that I've been wanting ever since I saw it on the runway many seasons ago and love the circular fashion, so happy that it's finally mine," she notes, adding that a white coat from Mango will be her alternate pick because "[it's] so elegant and crisp in the color, [it] will be one of those go-to pieces this season."
Below, shop pieces to help you achieve the layered suiting look this season.