Penélope Cruz Makes Her Runway Debut At Karl Lagerfeld's Final Chanel Show
Pascal Le Segretain/Getty Images Entertainment/Getty Images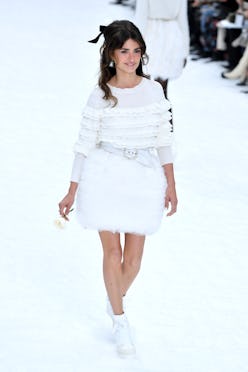 Models in tweed coats walked through the snow amid a fairytale-like set made up of Swiss wood chalets and snowy peaks during the first Chanel show since Karl Lagerfeld's death. The fashion community came together on Tues. to honor the late designer in a grand event that he, himself, created but couldn't attend. There, amongst the tearful procession was spokesperson Penélope Cruz making her Chanel runway debut.
On the final day of Paris Fashion Week, Chanel's over-the-top runway show was a sort of grand finale. A New York Times article says Lagerfeld knew he was dying when he designed the backdrop, a serene ski resort scene to showcase his last collection.
It was only right that Cara Delevingne, one of the iconic designer's known favorites, opened the show. She led a slew of fellow Chanel muses down the front steps of the Chalet Gardenia and onto the snow-covered runway. Among them was the legendary Cruz.
The Spanish actor, who became a spokesperson for the French fashion house in 2018, held a single white rose as she sauntered down the catwalk in an all-white outfit that matched her winter wonderland surroundings.
Cruz sported a ruffled sweater tucked into a voluminous miniskirt made of feathers and a pair of platform boots.
"I felt like laughing and crying at the same time, to see all these people who loved him so much celebrating him together," the 44-year-old told WWD after the show.
Cruz's feathery look stood out against the rest of Chanel's Fall/Winter 2019 collection, which was otherwise defined by black-and-white tweeds, pearl accessories, houndstooth, and checked prints.
"The collection I saw today gave me goosebumps because everything is there: the past, present, and future," Cruz said in the interview.
In addition to the Oscar winner, fellow Lagerfeld favorites Mariacarla Boscono, Amanda Sanchez, Soo Joo Park, and Anna Ewers all participated in the touching tribute. Meanwhile, Kristen Stewart, Naomi Campbell, and Claudia Schiffer watched from the front row.
The show started with a moment of silence and ended with a standing ovation led by Anna Wintour.
"We all know he was a genius," Cruz said, "but when you got to spend time with him, you discovered that other side, of kindness and sweetness."
An illustration by the designer of himself and Coco Chanel was left on every seat, and written on it was, in Lagerfeld's handwriting, "the beat goes on ... "