Kristen Stewart's Platinum Pixie Is The Perfect Fall Hairstyle — Here's The Safest Way To Try It
Vittorio Zunino Celotto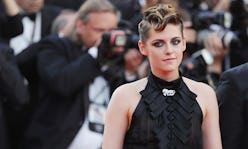 Hair transformations are second nature in Hollywood, but that doesn't make each celebrity haircut and color any less exciting. And now more than ever — as we make our official descent into cold-weather season — there's no doubt the celebrity set will serve as major inspiration throughout the next few months. If you haven't seen Kristen Stewart's new platinum haircut, prepare to call your stylist immediately.
The actor debuted her latest hairstyle on the red carpet of the Toronto Film Festival on Sept. 15. Stewart walked alongside Laura Dern and Jim Sturgess at the premiere of their latest movie, Jeremiah Terminator LeRoy wearing a cozy, embellished sweater dress by Chanel and a pair of classic black pumps with a PVC strap by Sophia Webster.
Although Stewart has spent the last year growing out her icy-blonde buzzcut, which she first wore in 2017, the actor has made the chop again. But on Sat., Stewart mixed things up with a choppy, bleached pixie featuring a messy side part. Just like the grungy, '90s-inspired hue we saw Selena Gomez experiment with last year, Stewart left her roots dark and exposed.
While Stewart's bleached pixie serves as excellent fall hair inspiration, it's important to know the safest way to experiment with a platinum hue. That's why The Zoe Report went to hair colorist Cherin Choi for her expert take on going blonde.
According to Choi, achieving an even, platinum hue is easiest if you're working with virgin, un-dyed hair. "If you have any previous color in your hair, you won't end up with the most even color," Choi, who's the co-owner of Nova Arts Salon in Los Angeles, tells The Zoe Report over email.
But that doesn't mean going platinum isn't possible if you've dyed your hair before. Choi says one of the most important things to keep in mind when going blonde is maintenance. In addition to getting touchups every six weeks, Choi recommends using a super-rich conditioner (she likes the cult-favorite Olaplex) during and after the lightening process.
Remember: It's crucial to treat your hair at home if you want your color to last. "Mr. Smith's Blond conditioner is also an amazing way to keep the tone nice and cool and to neutralize any yellow as the toner fades," she adds.
In order to make sure damaging chemicals don't dry you out, Choi also encourages her clients to opt for rich masks and hydrating conditioners to "sooth dehydrated, bleached hair."
Amongst the many celebrities who change their look frequently, Stewart continues to take risks when it comes to her hair. Just look at her massive portfolio of red-carpet events: The actor has experimented with just about every style, including a firey-red hue in 2014 and a slicked-back look at the 2017 Cannes Film Festival.
Prepare to see a spike in pixie cuts and bleached hues as the new season approaches — the beauty community is about to follow Stewart's risk-taking lead.