These Are Barneys' Top Selling Products For Fall (& You're Gonna Want Them All)
SOURCE: Nuori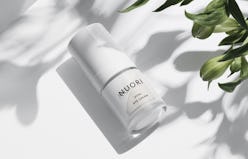 Winter weather is on its way, and with it comes layers upon layers of heavy oils and thick night creams. However unglamorous that may seem, there's always something to get excited about in the world of beauty. But narrowing in on exactly which fall skincare products you can look forward to using this season isn't always a so easy.
"We definitely see a lift in our serums and brightening products to help keep that summer skin," says Jennifer Miles, the Senior Vice President of Cosmetics at Barneys New York, who tells TZR that most customers' focus is holding onto a glowy complexion come fall. Other products that often pick up steam are moisture mists, eye creams, and face masks — all hydrating products to help moisturize when dryness sets in.
With that in mind, Miles rounded up some of the bestsellers in Barneys' popular categories for fall so you could get a firsthand look at what others are loving. With ingredients like hydrating hyaluronic acid — which can hold up to 1,000 times its weight in water — and brightening vitamin C, they're sure to help you survive the transition from summer to fall ... and maybe even add a little fun back into your winter beauty routine.
Brightening Products
Hydrating Serums
Heavy Creams
Eye Creams
Facial Mists
Face Masks