Paula's Choice Launched Its First-Ever Powder SPF So You Can Literally Reapply Any Time
Paula's Choice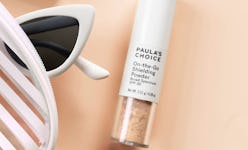 Ah, summer. What are the first images that come to mind when you picture the season? Maybe surfing, or swimming at the pool — basically, anything outside that has to do with water. But what comes after spending a few hours splashing around in the bright, summery sun? Parents suddenly appearing, and asking kids to get out of the water for a few minutes so that they can reapply their sunscreen. While standing there as mom slathers on sunscreen tests every kid's patience, it's hugely important; and it's the same principle behind Paula's Choice On-The-Go Shielding Powder.
No, the $29 face powder won't put on your sunscreen for you. It does, however, make reapplying your SPF coverage throughout the day as easy as it can get — something you should be doing, whether you're spending the day surfing or not. The powder comes in a tube with a brush at the end. All you have to do is take off the cap, slide the brush's protective sleeve down, and apply it as you would any setting powder; the formula will flow from the interior compartment, through the bristles, and onto your skin. No more washing off your makeup to reapply sunscreen (or skipping either makeup or SPF coverage in favor of the other). When it's time to clean it up, just pop off the detachable brush, rinse, and put it back on.
And because simply being a powerful 30 SPF powder just wasn't enough, Paula's Choice also formulated the new product with antioxidant-rich vitamins, olive fatty acids, and ceramides. These ingredients help it smooth out your skin, glossing over pores, midday perspiration, and persistent shine. So even if you're stuck inside all day and have no chance of escaping out into the sun, you should keep the skin-refreshing powder on-hand in your purse — it'll enhance your makeup instead of disturbing it.
The powder can be used on top of your regular sunscreen, whether it's a stand-alone product or a moisturizer with added SPF. "When it comes to sun protection, you really can't have too much, and layering various SPF-rated products is a great approach," Paula Begoun, Founder of Paula's Choice, noted in a press release.
Wondering why you didn't have an SPF powder in your life sooner? Grab your own On-the-Go Shielding Powder from the link below.