Patrick Ta Beauty's New Drop Makes A Case For Monochrome Makeup Every Day
Patrick Ta Beauty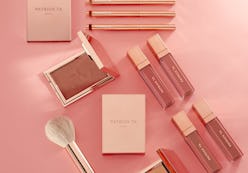 Literally speaking, everyone's life is made up of moments. One follows the other in constant succession for the duration of your time on the planet. But these days in popular vernacular, a "Moment" means something a little more major than a relatively vague measurement of time. It's something that stands out amongst the stream of other seconds that fill each day. It's instantly iconic. And according to Patrick Ta Beauty's Monochrome Moment collection, your everyday life should be filled with a whole lot more moments with a capital M.
For the latest launch of his eponymous brand, famed makeup artist Patrick Ta decided to steer into the idea of everyday beauty — as opposed to his initial drop of glow-getting products aimed at recreating red carpet glamour. "I just wanted to bring it back to real life with tone on tone colors that you can wear every single day," Ta told Allure during a discussion about the fresh drop.
The second installment seeks to streamline your routine with three makeup essentials that are effortlessly statement-making and crafted in the same easy-to-wear color family, plus an edit of brushes to help you craft looks that are Ta-approved.
"Right now, I feel like most of my clients, whenever I do their make up, even if it's for a big carpet or whatever, they just want to feel beautiful, effortless. And all these tones are definitely effortless — bronzy nudes and corals," Ta said in the same Allure report.
The Monochrome Moment collection looks after lips with the brands' first lipstick, Silky Lip Crème, $26, and lip liner, the Precision Lip Crayon, $26. The liquid lipstick delivers high-pigment color plus a satin-matte finish that doesn't dry down (so it should prove comfortable to wear), and the lip liner is shaped with a wide precision tip and packaged in a click-to-reveal tube for a fresh point every time.
Both lip products come in a range of pinky nudes: Pale pink She's Unapologetic is the lightest of the lipsticks, She's Confident is a bolder rosewood, and She's Secure and She's Independent provide in-between pink hues. The Lip Crayons are purposely created in slightly darker shades to add more dimension to the lips.
To get into iconic Moment territory, sweep the Velvet Blush, $32, across cheeks for a foolproof monochromatic effect. Ta created it to deposit a kiss of color onto skin via a buttery powder that blends easily. "It's super important to have a blush that isn't too pigmented but is super soft," Ta told Allure. The rosy toned rouges give you a lively flush, and pull your whole look together. Tip: Bring the blush up to your eyes for max monochrome magic.
Ready to try Ta's take on a sleek everyday style? Shop the Monochrome Moment collection, below.