Pat McGrath Labs Added New Shades To Its BlitzTrance Lipstick — & A *Very* Luxe Finish
Pat McGrath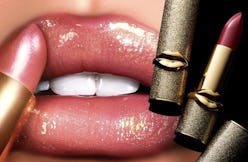 With so many lipsticks available these days, how does a brand ensure that theirs stands out from the pack? Well, if you're legendary makeup artist Pat McGrath, you create a lipstick so luxurious its formula can be dubbed a "couture-crème." That's exactly what her brand concocted with the Pat McGrath Labs BlitzTrance Lipstick — which just so happens to be newly available in nine fresh shades and a brand-new statement-making finish. Get ready for lips more glamorous than ever before.
One June 6, Pat McGrath Labs' line of luxe lipsticks got even bigger with the arrival of nine new BlitzTrance shades in a fantastical and new Satin Shimmer finish. The bold but incredibly comfortable lipsticks, which are characterized by a lavish couture-crème formula, give gorgeous color payoff just like the rest of the brand's cult-loved pout products — but this time with intense shimmer thanks to ultra-reflective pearlescent pigments in tones of gold, copper, and champagne. The result are lips with a hi-fi look that's simultaneously shiny and sparkly, and undeniably glam.
"This couture-crème lipstick is my new obsession, beyond major. Designed to make you strut and slay, it dazzles with a fierce flash of shimmer infused with provocative pigments and ultrareflective pearls. The new shades are elegant to the extreme, luxurious and polished, with a flare of sinful excess. It is the ultimate discothèque dream, ideal for all your lascivious liaisons," Pat McGrath said in an official statement.
Which of the just-landed shades, $38 per tube, should you snag for yourself? For starters, consider grabbing an ultra-glam update to your go-to hue. Fans of ruby red lipsticks will love Bloodrush, a true-red that's infused with gleaming copper pearl pigment for an appreciated dose of warmth. And those who prefer a natural nude should opt for Flesh 3, a deep rosy hue that's close to your lip's natural look — except for the incredible golden glittery finish.
Feeling a bit more daring? Go for cool-toned Lady Stardust, an icy rose mauve with champagne shimmer, or Love Train, a deep berry-wine shade with reflective copper pigments. Both shades bring full attention to your pout, which will be sparkling from every angle.
And these nine new satin shimmer BlitzTrance lipsticks don't just look beautiful. The sumptuous, never-sticky formula bathes lips in moisture thanks to emollient-rich ingredients, so your instantly-shimmery pout stays pretty and comfortable all day and night. And unlike other glittery lipsticks, the new BlitzTrance shades feature finely-milled pearl pigments in an lush, ultra-cream texture that glides on flawlessly, so lips feel slick and smooth, not gritty.
Tempted to give your lipstick collection a luxurious upgrade? Keep scrolling to shop all nine shiny, shimmery shades from Pat McGrath Labs' new launch, below.