6 Met Gala Lipsticks That Are Just As Inspiration-Worthy As The Dresses
Charles Sykes/Invision/AP/Shutterstock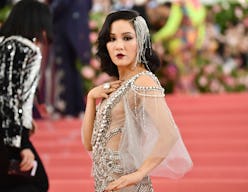 Now that the most important fashion event of the year is officially underway, it's safe to say that attendees are taking the camp theme very seriously. From all the over-the-top gowns doubling as actual works of art to the lipsticks that complement them, 2019's Met Gala is potentially the most dramatic in its 60-year history. The best pouts at the ball deserve a headline of their own, so here they are.
People's imaginations ran wild when the theme for 2019's event was announced as "Camp: Notes on Fashion" in Oct. The many who questioned what camp fashion even is studied the very essay that inspired the theme, a 1964 report by Susan Sontag that defines it as "love of the unnatural: of artifice and exaggeration ... style at the expense of content ... the triumph of the epicene style."
That said, expectations were high for Mon.'s Met Gala and guests did not disappoint in bringing the looks. Meme dresses and Disney references were present on the red carpet, but even the biggest, boldest looks relied heavily on the details.
Makeup artists had a heyday with bold lipsticks, adhering to the camp theme. Here are The Zoe Report's favorites from the night.