The Only 5 Spring Trends To Know From Milan Fashion Week
John Phillips/Getty Images Entertainment/Getty Images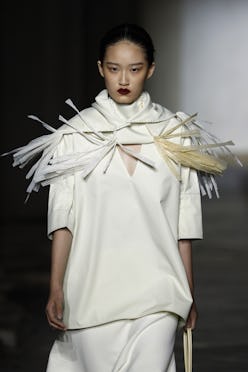 Milan Fashion Week is a short five days, but in that time, editors and influencers alike find themselves running to every corner of the city to take in the latest looks from some of the buzziest design houses — Prada, Gucci, and Bottega Veneta to name a few. It's a city where accessories shine — Italy is known for its leather — but there were a number of notable runway trends from Milan Fashion Week Spring/Summer 2020 that go beyond just a cute shoe or the next It-bag.
In Milan, often the celebrities sitting front row at a show garner as much attention as the looks themselves, so unsurprisingly, a few of the week's most notable moments featured A-listers: J.Lo's runway walk at Versace, and Lou Doillon and A$AP Rocky front row at Gucci standing out in particular. But, back to the clothing: Milan's spring looks continued themes that first popped up in New York and London. There was plenty of suiting and heavy outerwear — a practical change marking designers' attention to the fact that, while it may be called a spring collection, clothes often arrive in store during the coldest part of the year. Pops of color, notably bold blues, oranges, and a range of pastels, were expertly styled with more neutral tones across almost every runway. There were also a number of tropical, jungle-inspired prints, including that from Bottega Veneta, a brand that tends to stick to simpler, single-color designs.
Many designers also spoke to issues beyond the runway in their show notes. At Prada, designer Miuccia Prada suggested that her aim was to create timeless pieces that wouldn't just survive a single season and be done. At Gucci, Alessandro Michele addressed the politics of fashion asking in the show notes, "Can [fashion] suggest experiential freedom, ability to transgress and disobey, emancipation and self-determination?" With the global climate strike taking place in the midst of many of the runways, it's clear that business as usual isn't necessarily the sustainable future — the industry must turn its eyes outward to thrive and survive.
All that considered, now, check out the biggest trends from Milan Fashion Week that seem to encapsulate more intention and emotion than ever before.
Kind Of Blue
Spring is typically the season to re-introduce color into your wardrobe, and there was plenty of it to be had on the runway. While orange continued to pop up in unexpected ways, the command of blue — powder, cobalt, and cerulean — were of particular interest. At Armani, it was light and romantic. At Marni and Gucci, it was electric.
Heavy Metal
Shimmery, sparkly metallics were entirely hard to miss. Miuccia Prada sent a full gold skirt suit down the runway. Bottega Veneta offered up '90s-era metallic mini dresses and even a pair of mirrored pumps that make your feet shine like a disco ball. Missoni's collection featured a few standout blazers that shined their way down the runway. Yes, this spring trend truly dares you to stand out from the crowd.
Great Exaggerations
This season, designers were all about finding ways to take up space — introducing voluminous details in designs, from bubble hems to frothy gowns and puff sleeves. For spring it seems that the mantra really is the bigger the better.
Tease Of Tropic
If you're already considering a vacation somewhere tropical in 2020, the good news is that you'll know exactly what to pack. Jungle-inspired prints — ferns, leaves, and monkeys included — popped up on a number of key runways. Versace's tropical designs, including the now-viral look worn by J.Lo, were especially exciting, but Prada's subtle fern detailing, Marni's painterly styles, and Bottega's minimalist take were all evidence that no matter your style, you can test this trend out.
Shorts Suit
Suiting — both separate or styled together as two (or three) pieces remains a favorite among the industry, appearing both on the runway and all over the streets outside. For spring, the styles are getting the warm-weather update with many designers swapping out full-length trousers for tailored skirts and shorts instead. On Max Mara's runway, top models including Gigi Hadid and Candice Swanepoel adopted the trend.