So Many Of Outdoor Voices' Best Leggings Styles Are Majorly Marked Down Right Now
OUTDOOR VOICES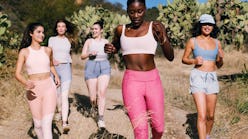 Are you starting a new fitness regime or returning to the gym after a holiday hiatus? Getting back into your workout routine isn't always easy, but there's nothing like some new athletic gear to put a pep in your step as you head off to the studio. Lucky for you, there are currently Outdoor Voices leggings on sale, as well as more discounted colorful styles from the brand that you'll be eager to show off to your barre class pals and running mates.
From now through Jan. 13, the popular workout apparel brand is holding a major sale online and in stores, offering up to 50 percent off select items. Not only will you be able to shop popular legging and top styles for a whole lot less, but you'll also find that shorts, dresses, and outerwear are all up for grabs with discounted prices, too.
If you've been waiting to get your hands on a color block style from OV, you'll be happy to learn that the 7/8 Dipped Legging is part of the sale offerings. The multi-colored tight regularly rings in at $85, but for a limited time, that price has been slashed down to $44 — a deal you don't want to pass up. These leggings will fit like a second skin and wick away moisture, making them ideal for all those really sweaty workouts.
Of course, with the next couple of months being the coldest of the year, you may be on the lookout for a legging that'll keep you warm on outdoor runs and weekend hikes. For those occasions, you'll want to have the TerraKnit 7/8 Legging on hand; now marked down to $39 from $85. The knit structured style was designed for the outdoors and customers attest to the level of warmth as well as comfort it provides.
For those shoppers seeking new tops for the season, there are plenty of options for you to scoop up on sale, including the Slashback Crop Top, which is now $34 (originally $55). A best-seller for the brand, the top once had a 700-person waitlist, and it's no wonder why — the longline silhouette and supportive structure make it both stylish and functional.
Ahead, 10 pieces from the sale that'll have you looking good while you get your sweat on this year. Be sure not to wait on this markdown moment though, as sizes are bound to sell out quickly.