Outdoor Voices' Iconic Leggings Got A Makeover & You're Going To Be So Thankful
Courtesy of Outdoor Voices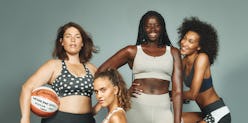 Ask and you shall receive. This, at least, applies to Outdoor Voices, a company that is definitely listening to its customers. Just in time to revamp your fall fitness gear, the brand, which has developed a cult following with workout lovers and athleisure fanatics alike, has answered its loyal fans with a new and improved line. After much testing, the brand released an updated version on Sept. 12 of the signature Outdoor Voices TechSweat™ legging that directly addresses the feedback received from its customers.
Coming in two styles at $95 each, the updated TechSweat™ Zoom Leggings (which come in ⅞ length) and the TechSweat™ Two Tone Leggings (available in ¾ and ⅞ lengths) are made to keep you cool while you sweat. With the new version, there's a colorblocking style that's signature to the brand, as well as a pocket at the back of the waistband for phone and key storage. However, the most notable change for the legging is the waistband, which has been updated to stay flat and provide extra support.
Since Outdoor Voices was founded in 2014, it's developed a dedicated following, which the brand's founder and CEO Tyler Haney has put in the work to create. Haney listens to feedback, engages with followers on Instagram, and incorporates real customers in the brand's social media campaigns by finding them via #DoingThings, its wildly popular hashtag which boasts over 91K posts.
Outdoor Voices is dedicated to keeping its community at the very center of its business, and it's easy to see that it strives to do so. This consistent interaction with its customer lead directly to the evolution of its product, specifically in this case for the very popular TechSweat™ leggings.
The customers have already taken note of the changes. With a five star rating on its website, the improved leggings have been met with glowing reviews thus far. Though only just released, shoppers have already highlighted their love of the new fit, with several people also noting how the improved waistband stays in place and is very supportive during their workouts.
Now that your bottom half is covered for fall workouts, you can match-up you leggings with the newly released medium and hi-intensity bras from Outdoor Voices, too. While it was once a brand that solely focused on low-impact gear, the label is making its presence known in the high-impact arena. Made with the brand's TechSweat™ material is the Doing Things Bra ($65) for all your medium impact workouts (think spinning) while the Zip Bra ($75) is ideal for bootcamp classes and running.
The new pieces are now available in Outdoor Voices retail shops and on the Outdoor Voices website, so you can snag yourself a pair of improved leggings and a bra to match. You'll want to do it sooner rather than later, though; knowing the popularity of this brand, there's no guarantee your size will be left for very long.
Editor's Note: This post has been updated from its previous version.