Our Fall Fashion Issue Is About Transformed Clothing & Clothes That Transform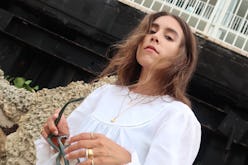 I never planned to be in fashion. I was going to be a doctor — the kind who would cure cancer and win national accolades for my continued oncology research. When you pass out in the cadaver lab, however, you have to make other plans. My other plans were still not fashion.
I studied journalism and ended up here almost by accident. Still, when I would tell people early in my career what I did for a living, they'd look me up and down and say something akin to "sounds about right." From the right person (an editor at a reputable magazine) it was a high compliment. But from others (say, an ex-boyfriend who felt dwarfed by my ambition) it was a snide remark.
We're not saving lives here, but we do know that clothing has the power to transform.
That's because unlike the adjacent worlds of architecture or interior design, fashion gets dismissed as a pursuit to which only a certain type of person would allocate brain space. One thing I've learned pounding the pavement for 10-plus years with women who have become not only trusted colleagues, but my truest friends, is how much confidence and integrity you can derive from being a certain type of person.
We're not saving lives here, but we do know that clothing has the power to transform, and that is the idea we're exploring in TZR's Fall Fashion Issue. The right piece can stretch someone's self-worth in ways nothing else quite does, and the looks we put on represent who we are in that moment: We're coy or we're driven or we're glamorous or we're androgynous, all based on how the fabric on our bodies is stitched together. It's why we have such strong associations with certain items. For writer Marjon Carlos, it's the Louis Vuitton pochette bag that convinced her that a life in fashion was possible. And our cover star Kate Bosworth speaks to Michelle Ruiz about the pair of Burberry boots that first clued her future husband into her love of fashion — an interest that only made her more interesting to him.
This season's trends carry forward this promise of transformation. As we explore in our "menswear" story, the idea of gendered dressing is so passé that designers have begun to dismiss the dichotomy altogether. And sometimes, it's a bit more literal, like in the case of our Reconstruction editorial, where we feature pieces that have been taken apart and put back together again, often with the help of a contrast stitch or a raw hem.
As New York Fashion Week officially starts, it's fun to take a moment to recognize the impact, sometimes surface-level, sometimes profound, that clothes have on us — and spend the rest of September celebrating that.
Lauren Caruso
Site Director, The Zoe Report