The Louis Vuitton Pochette Wasn't "Entry Level" — It Was A Gateway Drug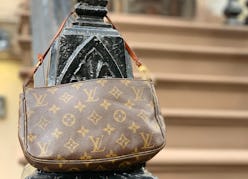 There is a lie I tell myself nearly every time I'm about to buy myself something really expensive: "This will change your life." In the moment, I believe this fervently enough to put down my credit card in a buzzing, sparkling department store I've banished myself from, or engage in forbidden late-night online shopping when the melatonin hasn't quite hit. Later, in broad, natural daylight, I can admit that most of these purchases are not "essentials" or "investment pieces" — they are shiny, fun objects that I purchase to amuse myself or simply to have. But there is a reason I think each will transform me, and that reason has the initials L.V.
I knew that when I carried the pochette, it would carry me, from the Dallas suburbs to something Beyond.
My Louis Vuitton pochette was the first piece of luxury fashion I ever owned. We all know it: in the pantheon of "It" bags, it's the make-up case-turned-carryall that every late '90s and early aughts celebutante swung around. Fashioned from pebbled monogrammed canvas, it was originally considered an entry-level item in the LV universe, a way for first-time luxury consumers to buy into the storied French brand. It was in no way the Speedy, or the original Louis Vuitton trunk that Monsieur Vuitton crafted for the French aristocracy, but still connoted luxury.
What better piece to gift an 18-year-old B.A.P. obsessed with fashion but miles away from New York or Paris? I remember my father arriving at my birthday dinner with the huge white embossed box. There was the maroon bow. I gasped. My mother audibly groaned. We all three understood that an item like this would change how I shopped — and dressed — forever.
The purse didn't go with anything I wore, and it could barely hold my wallet and Motorola cell phone, but I didn't care. I knew that when I carried it, it would carry me, from the Dallas suburbs to something Beyond.
As a black girl raised in all-white suburbia, I had never quite fit in. My identity was never reflected back to me or held up as beautiful, desirable, aspirational. The figures I looked to for inspiration — Aaliyah, Ananda Lewis, Brandy, the cast of Girlfriends, and pretty much any of Maxwell's love interests in his music videos — were basically unknown to my classmates. But my interest in pop culture and fashion assured me that there was an alternate universe awaiting me that would fully embrace me, a world filled with black creatives and their beauty, style, and soul.
My pochette would notify all who saw it tucked snuggly under my arm that I was destined for that world. It hinted at the entire wall I had committed to magazine clippings of my favorite ads, designers, and models, at the stacks upon stacks of Vogues, Harper's Bazaars, and ELLEs that I had practically memorized. It suggested that I could namecheck editors and celebrities and socialites and muses and photographers.
So I took it everywhere.
Not realizing that luxury bags remain luxurious by not being in heavy rotation, I retired my J.Crew and Banana Republic and bebe purses and basically made the pochette an extension of my body. I wore a uniform to school, but the pochette's monogram print proved just right juxtaposed with the green and white plaid of my school skirt. Its dainty shape was the perfect counterpoint to my Jansport's bulk. The tiny shoulder bag witnessed all of my senior year escapades and exploits, no matter how silly, banal, or illegal: running errands, attending house parties past my curfew, drinking wine coolers in a park, shopping at the mall, going to church.
It gave me new confidence: a person with a bag like this — a fashion person — was a person who could pull off other trends of the moment.
It gave me new confidence: a person with a bag like this — a fashion person — was a person who could pull off other trends of the moment. It was 2001, and I decided to try the then-controversial jeans-with-heels look that I had just seen Maggie Rizer wearing in the pages of Vogue. It was elevated and cool and looked like the kind of thing you wore in a bustling city, where there were so few rules to dressing. I wore my LV pochette with a pair of bootcut jeans with square-toe pumps (!) to the local Starbucks, the nerve center of young life in North Dallas, and noticed that I felt so unlike my peers, who were happiest in Abercrombie tees, cut-offs, and flip flops. I loved that distinction, and that I was the one creating it.
Of course, the pochette quickly reached ubiquity. The tipping point may have been when Lindsay Lohan displayed the now iconic rainbow Takashi Murakami edition on her desk in Mean Girls. Every member of Lohan's fanbase, from tweens to sorority girls, wanted or bought a pochette. Because I have a serious case of social reactance, wherein to maintain a sense of independence I always go against the majority opinion, I had to retire mine. But fashion continued to play a huge role in my life, as an arena for me to experiment and, eventually, build a career as a fashion journalist. Just like the Texan teenager with discriminating taste years before, I would find myself zeroing in on niche trends and iconoclastic trendsetters, celebrating them before they became mass. And because constant accumulation is an occupational hazard in this gig, my closet is indeed overflowing with pieces that probably aren't as essential as they seemed at the time of purchase.
And yet I still have my baby pochette. With the resurgence of '90s shoulder bags, I recently retrieved it from storage and put it back in rotation. After 18 years, it's still my best proof that I'm actually not lying to myself: Sometimes, a pretty thing will change your life.
Main photo courtesy of Marjon Carlos.