The Latest OUAI Launch Is Here & It's Exactly What You Need For The Holidays
Courtesy of OUAI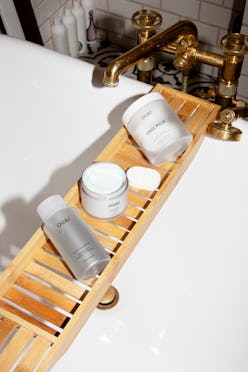 OUAI has been helping people relax since its inception. I can personally attest to this, because nothing calms me down quite like running the brand's Dry Texture Foam through my hair and knowing that I'll have the perfect amount of volume and texture the rest of the day. And though really great hair products are enough to make many breathe a sigh of relief (myself included), the brand didn't stop there in its quest to help customers relax; in fact, it forged ahead into a whole new category of body products. And after exciting launches like its new Body Creme, it's reached a whole new level of chill with its very latest: OUAI's new Chill Pills, which hit the brand's site on Nov. 11 just in time to help you survive the holiday madness.
Contrary to its cheeky name, the new arrival has nothing to do with actual pills (besides its equally cheeky shape). Instead, the chic $28 jar is filled with "fizzy moisturizing tablets" you can drop into a warm bath on your next night in. Chill, indeed.
Of course, OUAI is known for creating products with truly intoxicating scents, and these tablets are no exception. The bath bombs are made with a jasmine rose fragrance, which the products description explains is a light, romantic blend you "won't be able to resist."
The new bath bombs don't just smell good, though. OUAI included a hydrating blend of jojoba seed oil, safflower seed oil, and hemp seed oil to soothe skin and provide a subtle glow. To reap the benefits, just drop half of a Chill Pill (or a whole one, if you're really stressed) into a warm bath and wait five minutes for it to fizz out and reveal its scent. (Above, an extremely chill video from the brand's Instagram demonstrating exactly how to do this.)
Though it's always a happy surprise for OUAI fans when the brand drops a new product, it's not that shocking that bath bombs were its latest launch of choice considering how trendy baths have become in 2019. OUAI is joining a league of many other soothing new bath products, including Fur's new Bath Drops and new brand natureofthings' incredibly luxe Restorative Floral Bath, among others.
Aside from being trendy, it's also a well-timed launch with the holidays just around the corner. So get ahead of the inevitable stress of the season and shop this new product — OUAI's new Chill Pills are available now on TheOUAI.com and at Sephora.com on Nov. 27 — or just keep scrolling to shop them below.