Online Dating As A Transgender Woman Isn't Always Ideal — Here's Why
PIXELFORMULA/SIPA/Shutterstock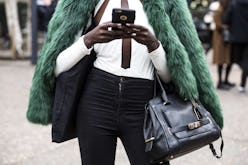 At this point, most single individuals, no matter their age, are either familiar with digital dating, have tried it, or are bonafide pros. And while many see online courtships as a standard now, there are some who still prefer the "organic route." Such is the case for Corey Rae, a transgender woman who's navigated the online dating world for some time — and found it can leave much to be desired.
Considering the 25-year-old writer and influencer has given a good number of apps the old college try, it's safe to say her conclusion on the matter is well-researched and informed. Yes, Rae's experience on dating apps ranges from the wildly popular platforms like Tinder, Bumble, OKCupid, and Hinge to the lesser-known options like Badoo and Happn. And while some apps proved more promising than others (at the moment, Rae says Hinge has the best user experience), her overall consensus is not great.
The New Jersey-raised influencer says the overflow of options and ease of just swiping through can make it difficult to develop a bond with someone and, more importantly, makes you more vulnerable to snap judgements and rejection, particularly as a transgender woman. "I've learned when you meet someone over an app or online lots of things go through their heads," she explains. "They either block me, never respond, or say 'You're really beautiful, but this won't work for me.' And then there's the one percent that's, like, 'OK.'"
There's also the inevitable onslaught of invasive and blatantly uneducated questions that she gets hit with. "I think many people still have this old-school mentality of what exactly being trans means," says Rae. "So often, I get, 'So, what does it mean that you're transgender?' and, 'Have you had surgery?' Also, the period question has got to go. No, I clearly don't get a period."
In a 2016 nationwide survey by the The Williams Institute, 1.3 million adults in the U.S. identified as transgender (suffice to say that number has increased considerably in two years) and, in the Accelerating Acceptance 2017 study conducted by Harris Poll for GLAAD, 20 percent of millennials identify as LGBTQ. Despite these numbers and the modern, more inclusive day and age, there is still ignorance and an alarming lack of knowledge around the experience of a transgender individual, says Rae. And, because online conversations and interaction don't always allow for true personalities or character to be displayed, she finds herself easily written off and subject to stereotypes. "A typical response will be, 'Oh, I didn't know you were transgender, I'm not into that.' I'm like, 'Um, I was your type like three minutes ago.' Even if they say it in the nicest way possible, it's still rude. If I can wrap my head around you being your own person, why can't you do that for me?"
To date, Rae's most meaningful and successful connections have mostly happened organically, as she finds dates show more genuine interest in her story and journey as a transgender women in face-to-face situations. "In person, it's so much easier to establish a connection and attraction," she explains. "I've never had a guy get up and leave. No matter how the person feels about what I'm telling them, they've never walked away."
But even then, she errs on the side of caution, as despite being in the most idyllic circumstance in which she's hitting it off with someone, there's a wave concern that comes fairly instantly. "I like the idea of being someone's first time meeting a trans woman but, then again, I have to deal with the pressure of that — I'm their first time meeting a trans woman," she explains. "All kinds of questions come to me: Do they have a fetish? Do they want to kill me? Am I an experiment?"
Despite the setbacks and disappointments, Rae knows her purpose is a meaningful one. In fact, after a particularly difficult exchange with an online date, Rae called a friend lamenting her frustrations. "I was so upset because we had this amazing chemistry and connection and yet I still couldn't convince him that I'm just another human being," she explains. "My friend then told me, 'Every single person you come in contact with has a changed perception of a transgender person, and that guy is one of them.'"
It's also important to note that within the mix of negative dating experiences has also been some genuine positive ones that have kept Rae hopeful for what's to come and, more importantly, what she deserves. This is why she has no problem being ultra-selective in her search for a life partner that meets her requirements. "The primary quality I look for is ambition," she says. "They don't have to have money, but they need to be goal-oriented."
Coming from a woman who has fought long and hard to live her most authentic and true life, settling for something less than wonderful is just not an option. While she's eager to meet a partner to have a family with and ultimately navigate life with, Rae says she's perfectly content in holding out for someone who sees (and acknowledges) her worth. "We can do anything we want and shouldn't have to be put with someone just because they are into trans people," she says. "I deserve options. I just want to prove that trans women can date like anyone else. We can do anything."