How To Navigate Dating Apps In Your 30s And 40s, According To An Expert
nd3000/Shutterstock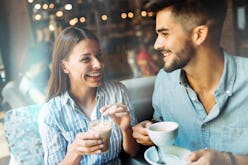 There are so many ways to relish being single in your 30s and 40s: investing quality time into your platonic relationships, indulging in much needed solo reflection, practicing self-care by way of spontaneous matinees or days devoted to pampering, and diving deep into your career journey. Loving and being comfortable with yourself on your own is likely the best homework you can do if you're eventually looking to step into the dating world. And when you are ready to meet potential partners, a slew of fairly intuitive dating apps are here to make meeting people just a little easier.
That said, as anyone who's waded through those waters knows, dating via apps isn't always as simple as swiping right. While there's arguably no right or wrong way to date, relationship experts have been weighing on the subject to help singles learn how to make the most out of using Tinder, Bumble, Hinge, or whatever your preferred app is.
One such guru is Dr. Chloe Carmichael, a NYC-based psychologist and author of Dr. Chloe's 10 Commandments of Dating. Dr. Carmichael has dedicated a significant part of her practice to helping singles in search of a partner navigate the often murky waters that are the dating world — without totally losing their minds. Ahead, find a few of her best tips for making dating apps work for — not against — you.
Consult Your Friends
Don't be afraid to enlist the help of your trusted crew. Dr. Carmichael suggests, "Ask friends to review your profile. You might be surprised what signals you're accidentally sending." After all, who knows you better?
Stay Consistent
Because of the casual nature of using dating apps, it can be easy to fall into an on-again-off-again relationship with them. But if you're serious about seeking a relationships and apps are your preferred tool to meet people, Dr. Carmichael suggests sticking to a rhythm. "To avoid a 'yo-yo' pattern with apps, try using them for approximately 15 minutes per day, or whatever amount of time feels best for your situation," she says. "This approach helps clients who tend to spend hours on the apps one week, then get burnt out and ignore them for two weeks."
Pick A Number
As many singles have learned the hard way, it's common to feel overwhelmed once you've started swiping. Dr. Carmichael suggests implementing some simple management methods to avoid getting inundated or burnt out too quickly. "Try aiming for a ballpark number of first dates per month," she explains. "This helps you pace yourself, which can be helpful since, oftentimes, if you're the 'new girl' on an app you will get inundated with messages. If you're getting overwhelmed by more invitations than you can reasonably handle, tell the overflow inquiries that they sound great but you're having a hectic couple of weeks and that you'll reach out later in the month. This helps you avoid a 'feast or famine' situation."
Take Baby Steps
Maybe you're still mending a broken heart or just not totally ready to give up your single status — and that's great. If you're curious about getting into the dating game, but not quite fully there yet, it's totally cool to start with baby steps. "Even if you're not ready to actually date, consider setting up a profile," suggests Dr. Carmichael. "It can be encouraging to 'dip your toe' into the dating pool by just setting up a profile to see who messages you. This way you also build up a store of potential dates for whenever you're ready."