One Kings Lane's Huge Sale Is The Best Excuse To Refresh Your Home Décor For Winter
One Kings Lane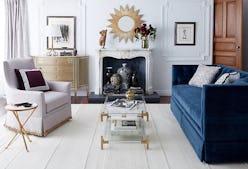 Winter is nearly here, and for many it means several nights spent entertaining guests at home for the holidays. Whether that's certain to be the case for you or not, it's still a great time to make some decorative tweaks in your space ahead of the super-busy time of year. And if you needed another really good excuse to spruce up your décor, One Kings Lane's fall markdowns include rugs and more on major sale right now. It's a can't-miss opportunity to deck out your rooms with luxe, classic pieces to create a gorgeous, winter-ready home for less.
When the inevitable extreme drop in temperature hits, you're likely to be driven indoors and minimizing the time you have to spend trudging through wintry streets (cue the dreaded seasonal affective disorder). And pending all that extra time you'll be spending at home, it's ideal to ensure your space looks and feels great so that you, and any guests, are comfortable. With time and budget likely not permitting a top-to-bottom revamp of all your living areas, it's best to look for high-impact accent pieces to do the heavy lifting.
That's where One Kings Lane comes in, with some seriously good sale items practically begging to be snagged for seamless integration into your home. From area rugs to table lamps to accent pieces, you're sure to find something beautiful to add that perfect touch to any room.
Considering an area rug's ability to totally transform a space, it's a great place to start when looking to update a room. The sale offerings at One Kings Lane include several options, like the $1,689.88 Levo Rug. The muted silver rug is a great size for a living room, and thanks to its tempered color palette and unique but subtle design, it's likely to fit right in with the rest of your décor. Then, tackle your entryway by adding a runner in a classic oriental pattern. This Turkish runner is now 60 percent off at just $459, and would contribute a much-appreciated dose of texture without overpowering existing design elements.
Bring a glamorous, refined edge to your spaces with gold accent pieces that read equal parts classic and cool. One Kings Lane offers this gold and agate table lamp, down to $797.99 from $1,325, which feels timeless and chic — try placing it in a den or home office to add extra polish. Arrange these coordinating gold hurricanes nearby on a side table to tie it all together, and add simple pillar candles to cast a warm, inviting glow. The set of two is on sale for $259.99.
Ensure your bar cart is properly stocked with essentials for mixing up quality cocktails for guests — it's a space that you may not consider decorating, but it makes all the difference. A luxe gold ice bucket, like this one on sale for 30 percent off at $529.99, makes your cocktail station look particularly high-end. To accompany seasonal drinks, pass around little bites on shimmery golden plates, $11 each, to further amp up the glam.
Several more stylish rugs, lighting fixtures, and more await in One Kings Lane's sale section, but you'll want to hurry. Many of the classic pieces are down to just one or two left in stock, so be sure to grab them while you still can. Below, some of the best sale items to shop right now.