One Kings Lane Fans Are Going To Be SO Excited About Bed Bath & Beyond's Newest Brand
Courtesy of Bed Bath & Beyond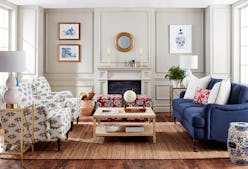 An overwhelming majority of the time, high style seems to come with a high price tag. That goes for fashion, yes, but it also applies to home decor and furniture — no doubt you've got a few design lines you admire, but decide to hold off on shopping because of the financial investment. Thanks to the brand-new One Kings Lane Open House range, however, that's all set to change. The impeccably designed, richly detailed offshoot of the original One Kings Lane brand just landed at Bed Bath & Beyond with a surprisingly affordable price point you won't believe until you see. Seriously, it's that good.
If you've got an eye for home design, no doubt you've longed for a piece or two from One Kings Lane. The fan favorite decor brand is known for chic, globally inspired designs that range from thoughtful accents to full-on furniture sets that come at a less than budget-friendly cost — but transform spaces so much that they're mostly worth the investment. But if you could get the look for less, there's no way you wouldn't jump on the opportunity right? Then Bed Bath & Beyond's newest brand is perfect for you.
One Kings Lane Open House is Bed Bath & Beyond's newest private label furnishings range, the second for the big box home goods store. The line debuted on Bed Bath & Beyond's website on Sept. 23 (ahead of an even wider in-store launch in Spring 2020) to give shoppers a chance to score the One Kings Lane look for just a percentage of the price. It's a step that makes a lot of sense for the parties, after Bed Bath & Beyond acquired the home furnishings brand in 2015.
Thanks to the fresh launch, you'll be able to choose from decorative items and furniture pieces that embody the luxurious livable style you'd expect from One Kings Lane, at price tags starting as low as $34.99 and topping out at $1,299.99 for the biggest items.
Snag chic throw pillows like this Vermillion Coral Lumbar Pillow for $39 and the sleek black and white Yara Square Throw Pillow, $45, to instantly freshen up your couch or guest bed. Or, make a bigger impact with bold pieces like the Huntley Bar Cart in Aged Gold, $349.99, or white marble-topped Beatrix Coffee Table, $499.99. Give plain walls interest with the new brand's wide offerings of framed art, like this simple figure sketch for $79.99.
Explore some of the best pieces from the newest, chicest brand to land at Bed Bath & Beyond by scrolling, below.