Bed Bath & Beyond's New Chic, Rustic Home Decor Line Is Here & You're Going To Want Everything
Bed Bath & Beyond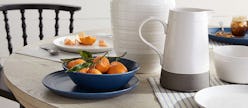 The modern farmhouse decor trend has been so popular for so long, you may have forgotten by now why it blew up in the first place. If so, Bed Bath & Beyond's new brand, Bee & Willow Home, will serve as a reminder. A Bed Bath & Beyond-exclusive, Bee & Willow's pieces are light, rustic, and downright charming, and will make you remember why so many people associate the modern farmhouse style with the feeling of being at home.
It all goes back to that charm. Bed Bath & Beyond's blog compared the Bee & Willow style to that of flea market finds; think worn-in, well-loved, and seemingly hiding a story within it. It's no secret that vintage (or vintage-inspired) decor can add charm to colder, more industrial modern living spaces. And now you'll be able to skip spending hours sifting through flea markets for a vintage horse print and just pick up one at Bed Bath & Beyond for $59.99.
Alright, you may not set out on a thrifting adventure with the goal to score a a horse painting, but the farmhouse decor enthusiast wouldn't turn it down. A piece that's faded, withered, or broken-in gives it the feeling of having been on your wall forever — which is exactly why so many people love the rustic style. It's homey.
Bed Bath & Beyond gave farmhouse decor a clean modernization for 2019, too. Bee & Willow's furniture is predominately available in pale neutrals called Natural and Light Natural, a color palette than goes well with the grays and browns found in the decor. Some pieces are more farmhouse than modern: This barn door buffet retails for $499.99 and looks like it was made from reclaimed barn wood and hardware.
Meanwhile, this $379.99 natural wood accent chair is more on the modern side, with a flowing wood frame that mimics Scandinavian styles. Pair it with that barn door buffet and the light shades will work seamlessly, while the two aesthetics together will form a chic, cohesive living room.
Bee & Willow has something for every room in your house, whether it be furniture, kitchen decor, bedding, or even stylish cleaning supplies. Continue scrolling down to browse some of the decor, and get to know Bed Bath & Beyond's newest — and maybe most exclusive — decor brand.