Olivia Palermo Is Auctioning Some Of Her Favorite Wardrobe Essentials (& You Can Bid On Them Right Now)
Rebecca Lewis/Getty Images Entertainment/Getty Images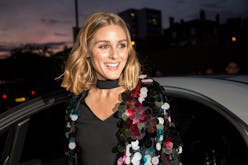 If you've ever dreamed of having Olivia Palermo's wardrobe for yourself (honestly, who hasn't?), you're in luck. The model has just donated a handful of wardrobe essentials to charity, including picks from Manolo Blahnik, Prabal Gurung, and Jimmy Choo. Thanks to Olivia Palermo's Dress for Success closet auction on eBay, you can snag the clothes right off her back.
Palermo is perhaps the most stylish businesswoman around and she wants everyone to have a fair chance at being just as fashionable. So, to celebrate International Women's Day (coming up on March 8), the trendsetter has teamed up with Dress for Success and eBay to auction off a few luxury pieces from her dreamy wardrobe for charity.
For the next week, you can bid on "a collection of fashion and beauty items straight from Palermo's closet," a press release from eBay says, "as well as pieces donated directly by her brand supporters."
All proceeds from this "Wardrobe Refresh" — officially called the International Women's Day Charity Auction — will go to Dress for Success, a global nonprofit that aims to empower low-income women by providing them with professional attire because, as we all know, a good outfit is the ultimate confidence booster.
A fashion entrepreneur herself, Palermo also serves as a celebrity ambassador for the charity organization. This eBay collab, running through March 13, is a part of the brand's #YourHourHerPower campaign, which encourages people to donate one hour of salary to "support another woman's empowerment."
"Becoming more involved with Dress for Success Worldwide over these past six months has allowed me to learn the incredible impact of this organization," she said in the press release. "The resources provided to women in need extend beyond a professional wardrobe, and include tools that allow these women to exceed in a new career path. I am thrilled to lend my further support with this auction."
So what's for sale, you ask? Well, a Tiffany & Co. bracelet, Roger Vivier shoes, and a Charlotte Tilbury Makeup Bundle for starters, and there's plenty more where that came from.
You can peruse the entire collection at eBay.com/IWD. Ahead, a few of the items on The Zoe Report's wish list.
Shop The Sale