The Unexpected Sneaker Style Olivia Palermo Is Obsessed With
Pascal Le Segretain/Getty Images Entertainment/Getty Images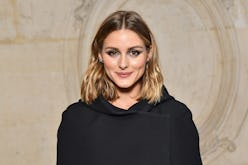 It may only be April but it's already clear that 2019 will be the year of the sneaker. In fact, athletic footwear has dominated the shoe scene for a while now, but the trend seems to be still growing rather than slowing down. Olivia Palermo's preferred version of a chunky sneaker has opened up a whole new avenue for feminine-leaning wardrobes.
This fashion mogul rocks a bold trend like it's her job. She's constantly walking around Fashion Week or attending the evening's it-event in an outfit no average woman would ever even think of putting together. With every designer basically begging to dress her, Palermo's authority in the industry is clear. And right now, the 33-year-old is playing favorites with chunky tennis shoes adorned with statement detailing.
The big, white "dad sneaker" trend has been in full swing since it acquired a cult-like following from fashion girls like Gigi Hadid, Kendall Jenner, and Kaia Gerber, but Palermo's version is so different from what you've been seeing everywhere lately. Her latest looks have proven that the entrepreneur likes a bit of glam added to her everyday sneakers.
In Feb., Palermo debuted a funky pair of pom-topped tennis shoes during the Moncler Genius show in Milan. The furry blue cloud that covered the laces of her classic white sneaks turned heads again when she wore them for the second time in an Instagram photo in March.
The sneakers are by Josefinas, a brand that offers a variety of faux-fur accessories and leather stickers to customize its classic styles. It was pretty much love at first sight for Palermo, who then went on to wear another super-feminine shoe.
This time, during the Alexandre Birman show in Paris, she opted for chunky white sneakers decorated with a black leather bow. Again, she dusted them off for an Instagram photo a month later.
Now, Palermo is sporting high tops with a flashy crystal buckle. She wore the glamorous sneakers — Roger Vivier's twist on a classic running shoe — with a fur coat on Thurs. The trendsetter loves her bold footwear so much you can most definitely expect to see these sparkly numbers again.
Ready to recreate her look? Ahead, Palermo's chunky sneakers and similar ones that have that same feminine flair.
Shop The Look