Meet The New Skincare Line That's Bringing Luxury Formulas At The Dreamiest Price Point
Courtesy of Onekind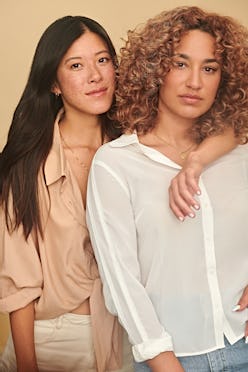 Smashing the patriarchy is a full-time job, and the more aware you become of inequality in its varying forms, the more it rears its ugly head throughout different aspects of everyday life. The gender pay gap is still very real, but what about the purchase gap? Also known as the Pink Tax, there's a glaring discrepancy in hiked-up price tags with which women are met when buying the very same products and services as their male counterparts. This is especially prominent in the personal care industry — but newly launched skincare brand, Onekind, is looking to change that.
From deodorant to shampoo, women are being over-taxed for everyday necessities, namely because companies know they can get away with the unfair absurdity that's become commonplace in the market. Nearly a decade after co-founding The Motley, an e-tailer of prestige men's grooming products, siblings and entrepreneurs Matthew and Madison Ruggieri knew the issue all too well.
"We learned this firsthand by being told to mark down items in price because 'Men won't pay as much as women," the Ruggieris explained. Upon the maddening revelation, Madison, a self-professed "beauty junkie," was determined to craft clean, effective skincare that wasn't inflated in price like her own go-to $150 night cream.
Hitting the market for the first time on Oct. 1, Onekind is bringing two nighttime skincare products to your vanity, just in time for dry-skin season. The first, Dream Cream Nighttime Moisturizer ($38), is a super-charged, fast-absorbing formula packed with plant-derived squalene and rosehip oils to lock in moisture and brighten.
The second offering, Midnight Magic PM Serum ($42), is ideal for a reasonably priced foray into the world of retinol, a potent anti-aging antioxidant that firms, plumps, and lessens the appearance of fine lines and wrinkles.
Aside from accessible pricing and quality, plant-based ingredients, it's clear that a focus on transparency lies at the core of the Onekind's ethos. A visual infographic breaking down how and why they charge the prices that they do is up on the site, which feels similar to Everlane's informational, quality-minded, direct-to-consumer business model.
The brand new, reasonably-priced formulas are available to shop right now, so combat the Pink Tax and get a head-start on rounding out your winter-ready skincare lineup, ahead.