Net-a-Porter Is Making Sustainability An Even Bigger Priority In 2020 With Its Net Sustain Beauty Edit
Aesop / Instagram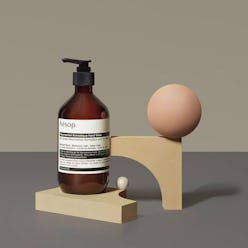 As of Jan. 13., fashion and beauty will both be included in Net-a-Porter's Net Sustain edit. The luxury fashion site announced its new sustainable fashion platform last summer, but it hasn't introduced beauty brands under that umbrella until now. The highly curated selection includes vegan skincare products, consciously crafted fragrances, organic lipsticks, and more.
In addition to mullets, floating eyeliner, and half-painted nails, one of 2020's biggest beauty trends will be sustainability (though hopefully it's much more than *just* a trend). The conversation that dominated the fashion industry in 2019 subsequently made a splash in the world of beauty. Now, people are more vocal than ever about their willingness to switch to a conscious, ethical, and cruelty-free routine, and Net-a-Porter is listening.
The website just added 27 beauty brands and more than 200 items to its Net Sustain edit, including everything from lip tint to foundation, facial cleansers, sunscreens, serums, and beyond. According to Net-a-Porter, each product must meet a few key requirements before making the cut.
Highlighted brands include those that make more than half of their products with locally sourced ingredients and utilize low-waste, "considered" materials (organic, fair-trade, nontoxic, and recycled materials that are kind to people, the planet, and animals, that is). Certified vegan products make up half the range.
Aesop, Rahua, Tata Harper, de Mamiel, Dr. Barbara Sturm's celebrity-favorite Molecular Cosmetics, and Miranda Kerr's KORA Organics are just a small sampling of the 27 brands featured, although it is worth noting that many of them are longstanding Net-a-Porter partners.
Kjaer Weis holds up the cosmetics department with nearly 70 lip glosses, eye products, foundations, and powders on offer, and while they can cost upwards of $70, the brand's zero-waste refill program will save money in the long run.
The beauty edit isn't nearly as hefty as the fashion edit just yet, but even the original rollout last June only featured 500 items to start. The collection has more than doubled in its inaugural six months. And considering how many other brands and retailers are moving in a cleaner, more eco-friendly direction (take Chanel's recent switch to sustainable silk, Dove's switch to 100-percent recycled packaging, and drugstore brands like Simple and Yes to Cucumbers launching biodegradable face wipes, for example) it wouldn't be a surprise if this new beauty edit at Net-a-Porter continued to grow just as quickly.
A few products from Net-a-Porter's Net Sustain platform to get your eco-friendly beauty routine started, ahead.