WWAKE's New Sustainable Jewelry Collection For Net-A-Porter Is Unexpected — & So Stunning
Net-A-Porter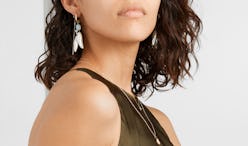 There's no denying the pearl trend was one of the biggest jewelry moments of this year. And if you can't get enough of it, you'll be pleased to know it doesn't look like it will be slowing down anytime soon. The latest pieces to set your sights on? WWAKE's PEARLS collection for Net-A-Porter — a capsule of pearl pieces (and more) that are not only stunning, but made sustainably, too.
The new collection from the fine jewelry brand launched exclusively with Net-A-Porter's new NET SUSTAIN program, which was unveiled on June 18. And if you haven't yet clicked over to this section on the shopping destination's site, it's time for you to take a look. Within the platform you'll find a curated edit of brands, products, and content that promotes sustainable practices and addresses human, animal, and environmental welfare.
For the unveiling of NET SUSTAIN, WWAKE's designer, Wing Yau, created a collection of pieces that'll only be available for purchase on Net-A-Porter. The range was entirely made in New York and uses pearls that took up to eight years to grow in the Tennessee River as well as recycled gold, reclaimed tourmalines, and ethically sourced opals, diamonds, and sapphires.
Noting in a press email that this collection was personal to her, Yau used memories from her childhood travels to the South Pacific Islands, where she collected opals and shells for the first time, as inspiration. This reference is particularly strong when it comes to the 14-Karat Gold Multi-Stone Earrings, $5,179.51, and the Gold Multi-Stone Earrings, $4,433.09, which incorporate a variety of materials that bring visual impact with plenty of luster.
If you're looking for one of the brand's more typically delicate pieces, you may find the dainty Gold, Pearl and Opal earrings for $420 to your liking. Meanwhile, those shoppers seeking to forgo a pearl this time around for a sleeker, more minimal silhouette should peek at the 14-Karat Gold Diamond Earrings for $280.
Continue on to see and shop the new collection from WWAKE, exclusively available at Net-A-Porter, below.