This Is The 5-Piece Capsule Wardrobe I'm Already Investing In For Spring
Olivier Degoulange/Shutterstock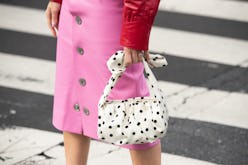 The first thing I notice about the arrival of spring is the changing light. Seemingly overnight I wake up to find my bedroom practically bursting with an intense sunlight that was inexplicably softer mere days before. With that simple harbinger of the warmer temperatures to come, I (along with the rest of New York City) adopt a humming energy and a renewed excitement about getting dressed. But, rather than replace my entire winter wardrobe all at once, my plan is to adopt a fresh capsule wardrobe for spring 2019 — a curated checklist of must-try trends and It items that I can incorporate into my established wardrobe.
As surely as I'll be ordering my coffees on ice from here on out, I'll be adding the typical easter-egg hues of spring to my wardrobe. But besides the predictable desire to dress like a blooming botanical garden, the longer days and rising temps provide an opportunity to romanticize the idea of getting dressed again. Putting on clothing doesn't have to be a practical calculation first and foremost;I'm no longer at risk of hypothermia or losing a toe or two to frostbite every time I step outside, so I can finally stop treating every bodega foray like an excursion to Antartica. During winter I have selective amnesia — I don't want to remember the times when getting dressed was purely about Fun! Easy! Dressing! because well, they feel so far away. But, now that those days once again feel close enough to grasp at, they're all I can think about.
Having spent the entire month of February city-hopping in the name of fashion, I've finally had the chance to digest the outfits I encountered through countless runway and innumerable street style throngs outside of said shows. And well, I've also had a few weeks to reflect on the difference between the trends I appreciate from afar and those I can envision tucked away in my closet, likely nestled between something plaid and something shearling. But, luckily enough if you too find yourself craving a mini-refresh for spring (and especially if you already managed to Marie Kondo your closet ahead of the changing season) these key pieces will be your easiest seasonal reset.
1: The Square-Toe Sandal
Let's start things from the bottom. While it may not be sandal season just yet, shoes are the first thing I think about when I'm shopping for a new season. By Far's dainty January sandals are that perfect pair of shoes. They're fashion-forward (a square-toe silhouette is the next trend to try), and while I'll break them out with a spring dress undoubtedly, I mostly can't wait to wear them with jeans and a tee.
2: The Lady Bag
As head-over-heels as I am for Jacquemus' meme-worthy mini bags, I've come to face the facts that I need a bag that can at least hold my keys and a credit card. During fashion week in New York, I was lucky enough to carry around Ratio Et Motus' lady bag for a few days, and I have since been singing the praises of the sleek style. As aforementioned, as a jeans and tee gal, I'm partial to accessories that instantly dress up and outfit. And, seeing that top handle bags are poised to be the It-handbag of the months to come, my vote is to invest early.
3. The Unexpected Suit
There was a time not terribly long ago, when the thought of a pantsuit sent chills up my spine. Over the last few seasons though, this ultra-corporate staple has been totally reimagined. Though I've already road tested oversized blazers and cool trousers, I'm drawn to the non-traditional suiting that's been popping up for spring. A skort suit from Maggie Marilyn along with designs in a bevy of bright colors and more warm-weather fabrications have transformed this two-piece into my new year round go-to.
4: Tie-Dye
For those readers who already happen to follow me on social media, the fact that I want to wear more tie-dye shouldn't really come as much of a surprise (Will I ever stop being a Bay Area stereotype?) But, with everything from full on Dead Head rainbow swirls to sorbet splotches popping up on the runways, well let's just say even polished dressers can get on board. I recently picked up a simple splattered tee from Eckhaus Latta that's the ideal starter piece for someone looking to dip their toe into the trend. It's neutral color palette is about as laid-back as it gets.
5. Fruit Salad Hues
Infusing color into my wardrobe isn't exactly surprising this time of year, but what's fun about my plan for 2019 is the fact that I'm not just looking to add a pop of pink or green, I'm going for a look that incorporates cheery hues from head to toe. Weather it's color blocking contrasting hues, or trying the tonal look in pale lilac or a buttery yellow, this time around the more color, the better.