7 Red Lipstick Halloween Costumes Inspired By Powerful Women, Past And Present
Francois Durand/Getty Images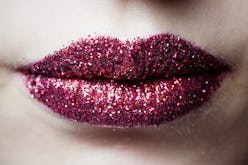 Red lipstick has the same effect as a good pair of shoes or that black dress that you pull out when you mean business. It's bold. Powerful. Sexy. And sometimes, it's all you need to pull a look together — just brush your brows up, add a little highlight, swipe, and go.
History's earliest beauty influencers, like Marilyn Monroe and Dorothy Dandridge, harnessed the power of a bold lip to command attention on stage and on screen way back when — and you can do the same, too. Halloween is the perfect opportunity to wear costumes with red lipstick inspired by those bold women.
But a red lip is only powerful when it's the right shade — and when it's applied properly. "Make sure that your lips have been exfoliated and properly hydrated beforehand," makeup artist Nina Soriano advises via email. "Dry, flaky lips will absorb your lip color and give you and uneven finish."
After applying, "Take a fine Q-tip and clean up the edges, cupids bow, and corners of the mouth," she says. Then, you're ready to rule the silver screen (or at least, your best friend's Halloween party).
Ahead, learn more about seven red lipstick lovers and the exact shades they swear by to inspire you for Halloween — or your next girls' night out.
Marilyn Monroe
"Marilyn Monroe is known for wearing classic red lipsticks, particularly in creamy formulas," makeup artist Neil Scibelli (Elle MacPherson's go-to guy) tells The Zoe Report. Monroe wore Revlon's Bachelor's Carnation lipstick, which has since been discontinued, but Scibelli says you can get her look by opting for a creamy formula like Revlon Super Lustrous Lipstick in Certainly Red. "Instead of opting for matte reds or even sheer red glosses, try looking for more traditional lipsticks with creamy, hydrating red formulas, which will give more of that timeless, classic look," he says.
Selena
The M.A.C. x Selena Collection from M.A.C. Cosmetics featured two shades of red that spoke to the late singer's oft-imitated aesthetic. Como La Flor, an orange-y red, and Dreaming of You, a darker shade, sold out almost immediately after their release... but don't fret. A M.A.C. representative tells The Zoe Report that the brand's Matte Lipstick in Red Rock is a close match for Como La Flor, while the same formula in the shade Studded Kiss is similar to Dreaming of You. (Dedicated Selena fans can still find the original products — albeit, with price mark-ups — on Amazon.)
Aaliyah
When M.A.C. Cosmetics released its Aaliyah collection in June 2018 — after fans petitioned the brand through Change.org to create a collection inspired by the iconic performer's countless looks — the brand answered demands with More Than A Woman, a deep, dark red. Scibelli tells us that the shade is ideal for those with "neutral to warmer complexions, since they can wear red lipsticks with a slight blue undertone without making their overall complexion look too cool or blue."
Frida Kahlo
"Frida Kahlo's signature red lip was always intact," makeup artist Marco Castro tells us. "I'm actually working with her family developing a color line inspired by her world," he adds — so when it comes to achieving her signature red lip, he's the ultimate authority.
"I'd recommend using a deep red lip liner to line the cupid's bow, and then a vermillion around the border to create dimension and add fullness," he suggests. "Follow with a true red lipstick with a slight orange undertone to fill in the lips."
Dita Von Teese
Dita Von Teese, undisputed queen of retro glamour, mixes high and low to create her signature lip look. In a video tutorial, Von Teese once showed viewers exactly how to do it at home: with M.A.C. Lip Pencil in Beet and Maybelline Colorsensational Lipcolor in Red Revival, two of her staples.
Audrey Hepburn
Audrey Hepburn in Roman Holiday is a no-fail Halloween costume that's equal parts easy and glamorous. Just throw on a white button down, a silk neck scarf, and a coat of Revlon Super Lustrous Lipstick Fire and Ice, which is a dead ringer for the shade she wore in the 1953 movie.
Grace Jones
Jamaican-American singer and supermodel Grace Jones is known for painting on a two-tone red lip that pops against her deep skin. To get the look, go in with a brick red lipstick like Rimmel London Lasting Finish by Kate Lipstick in Shade 011. "To finish off the lip, I like to run my lip liner around the outer edges of the lip to even out the lip and make it perfect," makeup artist Nina Soriano tells The Zoe Report. A dark shade of crimson, like Charlotte Tilbury Lip Cheat in Savage Rose, is just what Jones would use.
Editor's Note: This article has been updated from its original version.