Put This Affordable Diamond Ring Alternative On Your Radar ASAP
@eastwestgemco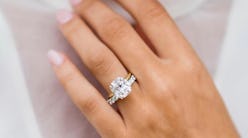 Buying an engagement ring is a big decision and often an even bigger investment. Increasingly, couples are considering alternatives to the traditional diamond ring, seeking out unique settings and non-traditional stones that better serve their desire for something distinctive, personal, and cost-conscious. Moissanite engagement rings as an alternative to diamonds are one such example, having emerged on the bridal jewelry scene as an ideal option for women who want the diamond look but are not looking to spend diamond prices.
According to a study done by wedding planning website The Knot in 2018, the average amount couples spent on their engagement ring last year was $5,680. But that estimate seems conservative when you consider the average price of a one-carat round brilliant diamond can run up to $16,000 for a perfect stone of the highest grade color, clarity, and cut. Downgrading to a slightly lower quality stone can reduce the cost by about half, but there are other options to consider.
Moissanite is a naturally occurring crystalline form of silicon carbide, though very rare to find in nature, as it's only ever been discovered to exist in meteorites. Instead, it is synthesized in a lab and then cut and set by a jeweler. While chemically and compositionally different from a diamond, moissanite shares many optical similarities — both are clear, sparkly stones. Brilliance-wise, moissanite actually has a higher refractive index than diamonds — i.e. more sparkle — but tends to have more fiery rainbow flashes whereas diamonds refract a mix of rainbow and white light. Moissanite is also comparable to a diamond in terms of hardness which means it's extremely durable — enough to withstand daily wear and tear for years on end. What's more, the stone is environmentally responsible and conflict-free, not to mention significantly less expensive than diamonds.
Moissanite has piqued the curiosity of many women, but even with a basic understanding of the stone's properties, many questions remain. For answers, TZR spoke to moissanite expert and the founder and CEO of East West Gem Company, Brenna Lyden. Her LA-based jewelry brand specializes in completely custom, artisan-made moissanite pieces that could convert even the most die-hard diamond obsessive. Continue reading below as she gives the rundown on everything you need to know about the popular diamond alternative.
Moissanite Vs. Diamond
"Moissanite isn't a fake diamond, it is its own gem and chemical composition," explains Lyden. Cubic zirconia may be a better known diamond alternative, but according to Lyden, it doesn't have the same unique qualities of moissanite. "For the longest time, there was no good alternative to diamond. Stones like CZ become cloudy over time, have a not so diamond-like blueish undertone, don't sparkle like a diamond, and are not hard enough to hold up over a lifetime," she notes. "Moissanite is incredibly hard, never clouds or loses its sparkle, and thanks to the innovation of facet patterns, it looks identical to a diamond."
As for the ability to distinguish between the stones with the naked eye, Lyden notes that differences are more about the facet patterns of each individual stone, rather than material. Since moissanite is actually more sparkly than a diamond, she often she suggests that her clients choose less flashy cuts. "This is where a crushed ice pattern in fancy cuts like pears, ovals, cushions, and radiants, and windmills in step cuts like asschers, emeralds, and baguettes, really make each center stone unique and much more diamond-like."
The 4 C's
Traditionally, diamonds are measured by carats, which is a measurement of weight. Because moissanite is lighter than diamonds, it is measured by size of stone instead. "We use carat conversions because many diamonds are cut shallow in order to give more finger coverage and sell for more," Lyden says. "This can affect the diamond's brilliance as well, because you are not cutting for the best sparkle, but the best margin. With moissanite, you pay for the size and stones are always cut for the optimal sparkle."
As for color, like diamonds, moissanite is most traditionally a clear-white hue, but also comes in a range of bright colors including blue, yellow, and black. And, because moissanite is created in a lab, its clarity can be tightly controlled. As for cut, Lyden notes, "the financial aspect of cutting for the biggest profit isn't a factor like it is in diamonds. We believe it's more about the facet pattern and right mix of depth and table to get the most brilliant, diamond-looking moissanite possible.
The Right Cut
"Many people get confused about cuts versus facet patterns. The cut is the overall shape of your stone ... think round, oval, pear, emerald ... The facet pattern is how that cut is done," explains Lyden. By focusing on specific facet patterns, it is possible to create a moissanate ring that distinctly resembles a traditional diamond. "We highly recommend windmills, which is a cut corner that creates a slice in the facet of the stone. In our opinion, this gives a much more diamond-like look," she says.
Another facet pattern often used to created a diamond effect is a crushed ice, which features more facets within the stone, which helps to reflect light. "If you want the most diamond-like look, my personal recommendation is a crushed ice hybrid for cushions and pears, crushed ice for ovals and radiants, and having windmills for any step-cut," she suggests. "Avoid round brilliants in moissanite. They are too sparkly in certain lights compared to a diamond."
How To Shop
For those considering investing in a ring with an alternative stone, "the color and facet pattern, in my opinion, is what creates a high quality moissanite," explains Lyden. If you're planning to shop for rings online, she suggests requesting a video that includes different lighting so that you can get a better sense of the ring. "We'll take videos of our rings in sunlight, in what we lovingly call 'crap office light,' or at a coffee shop. The odds of you being at a jewelry store? Slim. The odds of you being at Starbucks? Pretty solid."
Moissanite can also easily be cut to very specific preferences, meaning that it's easy to customize a ring to your ideal liking, a plus for those who have a very specific look in mind. "That's the amazing thing about moissanite," she says. "If you find a $150,000 diamond at Sotheby's that you love, we can recreate that exact stone in moissanite in terms of overall shape, facet, ratio, dimensions and any other details like corners or cutlets."
If customization isn't your thing, the most popular styles of stone are in fact very similar to what is trending for diamonds. "Micro-pavé oval, and ovals in general, are not slowing down anytime soon. Cushions are peaking in popularity and pears are definitely having a moment," she says. "Dainty solitaires are our most popular as they keep all the focus on that gorgeous stone."
So, now that you've experienced the crash course on moissanite, shop styles below.