Modest Fashion In 2019: How The Runway Suggests A Future Of Covering Up
Photo: Courtesy of AALTO.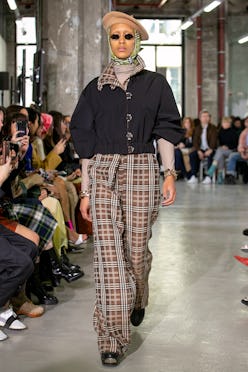 Seemingly, showing skin is always in. In the '70s it was miniskirts, there were the baby-tees and low-rise jeans of the early aughts, and more recently, the itty-bitty creations of designers like Jeremy Scott and Hedi Slimane. But for Fall 2019's shows in Paris earlier this year, there was a clear shift toward covering up. Longer hemlines, hosiery, ruffled high necks, and head-coverings all suggest that the industry is finally coming around to the fact that in the 2019 fashion landscape, a more modest way of dressing can be just as cool.
During her tenure at Céline, Pheobe Philo pioneered an elegant-yet-cool aesthetic that echoes through today's fashions though she has left the iconic house behind. "It's no secret that Phoebe Philo made it cool to be modest, but what she also did was give women a choice about how we choose to present our bodies in this world and I don't see women relinquishing that choice anytime soon," stylist Rachael Wang tells the Zoe Report. "I don't think the [modesty] market is underserved, per se, but I think there is always room for more options."
Marine Serre is arguably one of the earliest up-and-comers to champion covered-up dressing on Paris' center stage, with her unmistakable crescent-printed tights and long-sleeve tops becoming a staple both editorially and on the streets in recent seasons. But, she's not the only designer showing less skin — in fact, Serre's peers; Younger, edgier brands like Aalto and Rokh are blazing the path for this new take on more modest fashions for a younger generation.
Individual motivations for covering up vary widely, but increasingly a global marketplace and the sweeping reach of social media allow for increased awareness. "Modesty covers such a wide spectrum, ranging from women who choose to dress modestly for religious reasons, to women who prefer the fashion aesthetic or favor feeling more ... office appropriate in demure silhouettes," notes Sally Matthews, the creative director at Dubai-based luxury e-retailer The Modist. "The common thread which unites our women is their love of great fashion, being able to find coverage without having to compromise on style and feeling empowered while doing so."
For those whose fashion choices are tied to religious tenets, choosing an outfit is often about expressing yourself within specific rules of dress. "I think it's a fascinating constraint to dress modestly, as I've observed specifically in the Jewish religious world," remarks designer Batsheva Hay, who launched her namesake line with a focus on a signature high-necked, printed maxi dress in accordance with her husband's conversion to Orthodox Judaism. "Specific rules are adhered to, like below the knee skirts, high collars and covering the elbow, but outside of that, there are still so many ways to dress." Her creations allow women to dress modestly while still following the trend cycle.
While some theocratic countries and regions like Iran and Indonesia's Aceh province make it obligatory for women to dress modestly in accordance with religious doctrines (specifically, wearing hijab or other headscarves in an interpretation of Islam), in Western countries, modest dressing is a spectrum with a wide range of motivations and interpretations. "To me, there's something so interesting about a woman choosing to cover her body and the various subcultures of women who practice this culturally," says Hay. "I was also just so inspired by the style of Laura Ashley that I wore through my childhood and how inclusive and flattering it was to women of all sizes and ages. I think retailers and brands are slowly getting hip to including all women but fashion usually distances itself from these groups."
And in the digital age, fashion brands increasingly look to their customers for design cues, parsing data from social media and their own websites and acknowledging the spending power of those buying their wares. "I think the internet allows the consumer to have more influence on design than ever before," Wang explains. "Whether for reasons that are religious, cultural, aesthetic or a combination, folks are demanding with their purchases and their online commentary more options when it comes to how we can express ourselves through how we get dressed." As many luxury retailers court customers from around the globe, it's increasingly important to fit the demands of shoppers with a range of fashion needs.
With the breakneck speed of the current fashion cycle, it can be difficult to distinguish a trend from a true pendulum shift. But, as consumers steadily assert their needs to brands (that are finally listening), expect to see momentum continue to grow.
Though fashion typically follows the trickle-down effect from the runways into the mainstream, this shift toward modesty in many ways is one happening the other way around; In the move toward modest dressing, the fashion world is finally taking cues from a mainstream audience. Islam is the world's second largest and fastest-growing religion, and so considered, added representation is an important shift. People of varying backgrounds, religious associations and ethnicities, are using their platforms to share their own unique senses of style and helping to drive forward a conversation around modesty and the choice to cover up. "I think influencers like Hodan Yousuf, Noor, Leena Alghouti, Maria Alia, and Modest Mira are doing such an inspiring job of interpreting modest dressing in such a modern and inspiring way," says Wang.
Traditionally the Fall/Winter season lends itself more to layering and bundling. But, below you'll see the ways in which the industry has made more permanent shifts — beyond the purely functional. The design choices are purposeful, and editorial, layering that celebrates covering up.
The Head Coverings
A year ago, a runway look was about what was presented below the neck, but this season, hats and scarves appeared on many key runways. At Dior, Maria Grazia Chiuri stamped approval on the bucket hat, Koche's wide-brimmed, feather hats demanded attention at its arena-sized show (and already made its way onto Bella Hadid), and Loewe went whimsical with caps reminiscent of Mickey Mouse ears. Even at Valentino, a show typically drenched in traditionally feminine romance, designer Pierpaolo Piccoli shielded the face of many a model with dramatic cone-shaped buckets, rivaling only the hats at Nina Ricci in size and volume. In each instance, the hats offered not only a lower-priced element of a runway look that shoppers could buy into, but also an extra layer of intrigue — infusing the traditional with the unexpected.
At the show of Aalto, a lesser-known designer out of Helsinki, the move to offer more inclusive and modest styling stood out as especially important. Tuomas Merikoski's deliberate use of coordinating hijabs took the looks to the next level, both aesthetically and inclusively. "The garments in this collection layer a multitude of contrasting elements, or cultural fractions," read Aalto's show notes. "Taking inspiration from modest wear, the silhouettes are covered, elongated and voluminous. Spacious pieces provide intimacy and a safe space in which to develop and nurture one's true self. They're designed to cover the body and embellish the face, which has long interested me as the reflection of the inner beauty."
"My first ever show that I've walked on and I did it with 3 of my other hijabi/Somali friends. Can't explain how I feel right now!!!," wrote Somali model Salma J, also known as Streetjabi in an Instagram post. "Thank you Aalto and the whole team for letting me be a part of this amazing show," she said, taking to social media to celebrate the designer. "It is in Helsinki that I first came across Xafsa, Fatima, Sahra and Aisha — young women forging their own identities, mixing traditions that are only seemingly on the opposite poles:" Merikoski elaborates in his show notes. "The oriental and the occidental; the modest and the extravagant; the age-old and the of-the-moment. I continue to admire the way they merge the best of both worlds to become embodiments of beauty nourished by diversity." Worth noting, too, that the inclusion of a hijab carries perhaps more meaning in Paris, where Islamic veils, headscarves, turbans and other distinctive items of religious dress have been banned since 2004.
At Aalto, the hijabs and headscarves were paired with a mix of custom berets by Le Beret Français, serving as a reminder that in France, these two coverings should hold the same weight. The clothing that came down the runway was oversized, from hoodies to baggy trousers, and maintained Aalto's cool-girl aesthetic. It may seem like a small step to include a handful of hijabi models in a show, but it's a gesture that didn't go unnoticed.
Maria Alia, though — a model and influencer in New York who grew up in a Muslim and half Middle-Eastern household, started wearing hijab around age 14 and has dressed modestly much of her life — points out that it's important to acknowledge that prejudice still remains. "There's a huge population of not only Muslim women, but also Christian and Jewish women who choose to dress modestly for religious reasons. There are also many women who prefer more modest silhouettes out of personal preference. It's important for the industry to understand that it's not just a trend; it's a lifestyle for many," she explains to TZR. "As a modest dresser, I think it's mostly great but sometimes can be a bit frustrating to suddenly see headscarves on every major runway being celebrated at the same time that the hijab is still deeply frowned upon in many western societies."
Major brands, too, though, are making headway in the headscarf department. Sportswear behemoth Nike launched its performance hijab at the end of 2017, the first of its kind, and Uniqlo followed suit in incorporating more modest options into its offering. Recently, Muslim model Halima Aden launched her line of headscarves. And alongside these buzzier launches, influencers like Anisa Stoffel are also popularizing new indie hijab labels such as CULTURE Hijabs, further normalizing the head wrap in the fashion and influencer spheres for many female fashionistas who felt that they weren't represented in the industry.
Hemlines, Necklines, And Hosiery
Hedi Slimane surprised much of the industry when he sent his second Celine collection down the runway this season, which presented a stark contrast to his debut in Sept. Rather than the tiny, sequin dresses he's know for, the Fall/Winter 2019 Celine collection featured shin-length Bermuda shorts, silk scarves tied high around the neck, boots that inched up to the mid-thigh and capes and blanket coats that draped right over it all. In the case of Celine, Slimane was pulling the ultimate throwback card — paying homage to what the brand once was, a staple to the bourgeois French woman rather than the fashion crowd at large. It was a stark contrast to the micro-minis that last season offered, but it was also a welcome change of pace. This more subdued, vintage-inspired, Celine garnered a warm reaction, even from those who lamented Slimane's appointment.
As hemlines lowered, so too did necklines rise. The ruffled "jester collar" became a surprising sartorial mainstay over Paris Fashion Week. At Louis Vuitton, Nicolas Ghesquière experimented with high, ruffled necklines and tight-cap head coverings, tapping into '80s silhouettes that are wide up top and narrow at the waist, and pairing many of the looks with opaque black tights. While some fall collections tend to get away with eschewing seasonality (read: being completely impractical for cold weather), this season's collections challenge the idea that women would freeze for the sake of fashion. At Beautiful People, for instance, thoughtful layering was a demonstration in just how far a simple turtleneck can go, especially when juxtaposed under otherwise-revealing dresses.
Other labels like Rokh, Véronique Leroy, and Marine Serre embraced floral or printed tights, leggings, or bodysuits to complete their ensembles, others used footwear as a key part of putting together a covered look. Rochas, Courrèges and Chloe all championed a simple modest outfit combination: midi-length dress, plus tall boots.
The Outerwear
You can argue that outerwear is by nature about covering up, and doesn't inherently suggest a shift within the fashion industry, but consider the silhouettes and you may think differently. At Miu Miu two floor-length, structured wool capes opened the show and at Marc Jacobs in New York, capes dominated the outerwear designs. Neither fashion house is known for being particularly modest, in fact, Miu Miu has often sent bloomers down the runway in place of pants and Marc, well, it only takes one look at Spring/Summer 2017 to see the man's fond of a sheer number and a mini skirt. For both, offering more modest options can only help these designers' case, thrusting them further into the zeitgeist.
Echoing Merikoski's earlier sentiment about clothes that leave space for interpretation and self-reflection, capes and loose blanket coats offer a sense of fluidity, privacy, and protection — shifting focus away from what's underneath. "Outerwear is such an easy win for a modest dresser, a decadent cape not only provides a fashion moment but is also a great tool for providing extra coverage to an evening look," Matthews says. "Oversized tailoring, the new power-dressing, is another key trend for next season, and is perfect for providing a loose and forgiving silhouette which not only feels cool but also avoids hugging the figure too tightly."
The Modesty Market
Perhaps the best example of the power of the modest market lies in the success of the aforementioned Modist, who has led the charge, offering exclusively modest styles from high-end brands from the likes of Tibi, Nanushka, JW Anderson, and Self Portrait, and who shows no signs of slowing.
In a time when Islamaphobia is an ongoing threat, inclusivity and accepting the range of ways women dress are crucial. "For our woman, modesty is a way of life and the industry has definitely seen a shift with modest fashion being more understood on a mainstream level. Catwalks have been filled with more demure silhouettes, red carpet gowns showcasing higher necklines and lower hemlines, and social feeds featuring more layered looks as a more modest aesthetic has gained momentum," Matthews says. "Whether it's the Women's March, the #MeToo movement, or the plethora of platforms and ways women can share their voices and feel empowered today, the industry has finally taken notice and made steps towards showcasing a more diverse and inclusive version of beauty to represent women who have not been part of the dialogue and modesty is most definitely part of that."
It indeed seems that the industry on a wider scale may finally be starting to put its money where its mouth is when it comes to modesty. Just in recent news cycles, Haute Hijab raised $2.3 million for its direct-to-consumer model of trend-forward hijabs, The Modist secured two more hefty investors (Farfetch and Nicola Bulgari), and Vogue Arabia made waves on social media for putting out Vogue's first-ever group hijabi cover. And, though American culture may still be obsessed in many ways with the idea that "sex sells," the hope is that American designers and magazines aren't far behind.
Showing skin is certainly not the only way to make a statement. What truly matters is that there are no real boundaries except an individuals own personal comfort. "I don't believe there are any set in stone rules to modesty," adds Alia. "I think every woman should dress however they like, whether it be nothing at all or covered head to toe, as long as it's their choice and what makes them feel most empowered and comfortable. There will always be a market for all levels of modesty, and to have designers and brands who take this into account during their creative process just makes it a win-win for everyone."