Moda Operandi's Lisa Aiken Reveals 10 Things Even She HAD To Buy This Month
Courtesy Moda Operandi / Sandra Semburg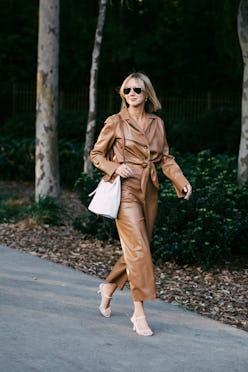 The Zoe Report's Everything I Bought This Month series highlights one trendsetter's spending habits over the course of a month, focusing not on groceries or utility bills, but on the fashion, beauty, and lifestyle picks they buy — non-essentials that actually feel, well, pretty essential. For this installment, Moda Operandi's fashion and buying director Lisa Aiken walks us through 30 days-worth of purchases, which includes the bag on every fashion insider's radar right now.
Lisa Aiken is a newly minted New York resident, having relocated from London when she took on her new role as fashion and buying director at Moda Operandi late last year. Aiken arrived in the city armed with a bold sense of style and keen eye for spotting the next It-designers, two characteristics that have long set her apart both in her day-to-day role and among the street style set. But with her big move comes a new perspective.
"They say you will only ever wear 20% of your wardrobe. I never thought that was the case until I was packing up everything I own to transition to a New York City apartment, which is much, much smaller," Aiken tells TZR. "It became very evident to me what was essential versus, those things, looking back, that were more frivolous purchases." As a result, Aiken says her shopping habits have steered more toward spending on investment pieces rather than flashy, wear-once trend buys.
"The most important thing in fashion right now is personal style."
Aiken isn't the only one making a few adjustments — Moda Operandi launched a rebrand on Sept. 5, just ahead of Fashion Week, that has embraced a wider lens on what style means. "The most important thing in fashion right now is personal style. Gone are the days when the fashion world decides what the trends are, and then it trickled down into every editorial, advertising campaign, and then ultimately what you saw on the streets," Aiken says. "To me, that's what is reflected in the rebrand. It is about putting your personal style first, and whatever you like should be what you want to wear."
Looking to give your own personal style a little reboot this fall? Take a look at everything Aiken says she bought this month — sartorial and otherwise — and perhaps add a few of her recent purchases to your own shopping cart.
Khaite Jeans
"Denim trends are quite slow to evolve — consider how long the skinny jean has been in style. I feel the next big denim trend is authentic distressing. These distressed jeans from Khaite feel like the tried and true, real deal."
Tatcha Blotting Papers
"Fashion Week is sure to be warm and sticky. I rely on Tatcha's blotting papers for a quick touch-up between shows and appointments."
Alighieri Necklace
"The nature of jewelry is so personal. It is that finishing touch that takes an outfit beyond being just clothes. This month, I am expanding on my Alighieri line-up with the longer chained 'Initial Spark' necklace. With Alighieri, I find myself first falling in love with a piece and then learning the story behind it. For years I've been wearing a lion pendant from the brand that symbolizes bravery. Whenever I have an important meeting, I check to make sure I'm wearing it when I leave the house."
AYTM Magazine Holder
"With my move I am having fun decorating my apartment. While I am using the same fundamental pieces from my original home, I want to do exciting things with accessories to bring a New York edge to my more eclectic London furniture. Much to my husband's dismay, I shipped all of my back-copy magazines. This magazine rack is one of those accessories I'm looking forward to adding."
Bottega Veneta Shoulder Bag
"It took me a long time to narrow down which Bottega bag would be my next investment. This was a hard deliberation since I first saw them in the showroom. For me, I know I really love a piece if by the time it hits the shop floor six months later, I'm still thinking about it."
Living Proof Dry Shampoo
"For beauty, I rely on multi-tasking products. My go-to for hair is Living Proof's dry shampoo. It works miracles for lived-in, undone hair."
Kassl Trench Coat
"Much like London, New York weather is fairly temperamental. I wanted a functional rain coat that was also cool. Not many exist, but Kassl is one of them. Since discovering the brand, I would just as happily wear this coat to fashion week as I would every weekend there is torrential rain."
Proenza Schouler Combat Boots
"On set at Moda's rebrand ad campaign they styled these Proenza boots with the prettiest Brock dress. It was that moment when I realized I can give anything currently in my wardrobe a New York tough edge with a pair."
The Sill Plant
"I'm also in the process of shopping for plants. While I was in the Lower East Side, I discovered The Sill."
A.W.A.K.E Top
"There is a high portion of my wardrobe that is A.W.A.K.E. While they are not new, the brand is still an insider secret. A hardworking white shirt is a valuable staple I want to add for the season ahead."