Milk Makeup's Latest KUSH Launch Is Here To Help You Simplify Your Wind-Down Routine
Courtesy of Milk Makeup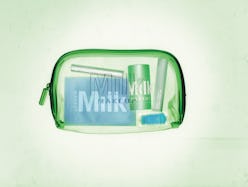 Putting together a cohesive skin care routine can be a challenge. How do you know all your products will work harmoniously together to give your face that sought-after allover healthy glow? One solution to ensure that good skin is in the bag: Milk Makeup's KUSH Stash Bag. The travel-sized tote is the all-inclusive kit to get for skin that's relaxed, rejuvenated, and downright happy — so you can zen out instead of stressing out every time you open your beauty cabinet.
During the entire month of April, Milk Makeup is celebrating the one-year anniversary of its KUSH collection of cannabis-infused beauty products with a fresh launch every single week of the milestone month. Last week, the brand gifted fans a totally new hydrating clay stick face mask, and now Milk Makeup is upping the ante by introducing a well-rounded grab-and-go bag with everything your face needs to feel refreshed and ready to take on a new day.
The KUSH Stash Bag, $49, will be available on April 10 at the brand's site and on Sephora.com before arriving in Sephora stores on April 20 (a launch date that's well-suited for such a blissed-out product range). In it you'll find the just-launched cannabis Hydrating Face Mask, a $24 product, plus the line's $16 KUSH Lip Balm, a $14 mini tube of the Cooling Water face stick, a $12 mini KUSH Mascara, and $22 de-puffing Cooling Water Eye Patches. Buying each item individually would run you well over the retail price for the Stash Bag — so if anything, this is just an incredibly great deal.
Beyond the delightfully low price tag, however, is the fact that each of these items are aimed at working together to achieve a complexion that looks chilled out and well-rested (even when you're not).
Milk Makeup's easy-to-use clay stick Hydrating Face Mask makes masking simpler and cleaner than ever — a few quick swipes of the no-mess stick across your face and 5 to 10 minutes of down time, and you'll see calmer, happier skin thanks to the formula of moisturizing hemp-derived cannabis seed oil and soothing aloe. Apply it at night while winding down, or in the morning to lock in hydration ahead of a long day.
Need an extra dose of skin-rejuvenating goodness? The Stash Bag's got you covered with the two Cooling Water goodies included in the collection. The Mini Cooling Water stick, formulated with caffeine and soothing seawater, instantly refreshes skin that's tired, and the Cooling Water Eye Patches bring a punch of de-puffing power to take down swelling in the delicate under-eye area.
Before you head out the door, swipe on the Stash Bag's KUSH Lip Balm, an instant pout-hydrator, and Mini KUSH High Volume Mascara, which will make eyes look wide-awake with a single hit. Throw the duo into your purse to take them with you on the go.
Score the curated cannabis launch starting April 10, and stay tuned for the rest of Milk Makeup's KUSH birthday month drops.