Miley Cyrus Debuted A Subtle Haircut Ahead Of The Met Gala Red Carpet
Matt Baron/Shutterstock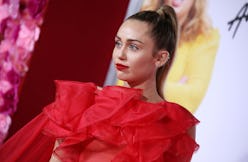 It's officially the first Mon. in May, which means every it-girl is preparing for the biggest fashion event of the year. Nobody will be taking the "Camp: Notes On Fashion" theme more seriously than the only one who ever wore a bear bodysuit on the Video Music Awards stage. The first step in Miley Cyrus' 2019 Met Gala prep: a fresh haircut.
It's hard to tell what this over-the-top singer and her team have come up with for this year's camp theme. Cyrus started preparations for her fourth Met Gala appearance early, squeezing in a trim before the big day.
Unlike last time she went scissor happy — debuting blunt, Hannah Montana-style bangs and sunny blonde highlights (the perfect upgrade for spring, you might say) — her latest is more of a touch-up than a bold change. In any case, anyone who's ever had fringe knows a subtle trim can go a long way.
Cyrus kicked off Met Gala day by posing with her husband, Liam Hemsworth, for a bathroom mirror selfie that she posted on her Instagram Story. Sporting an oversized Johnny Cash tee and that classic just-rolled-out-of-bed topknot, the singer's bangs looked slightly shorter (showing a touch of forehead that wasn't previously visible), though you might have needed another look.
The slew of photos that followed — including one where she wrote "addicted to haircuts" — confirmed.
Cyrus' sudden hair change is no doubt linked to her Met Gala look. Her past looks for the momentous event include spiky short hair for 2013's punk theme and a blue, slicked-back style in 2015, breaking the dramatic hairstyles streak with subtle tousled curls in 2018.
You can bet, though, that 2019's camp theme will bring out her bolder side. The Miley Cyrus who once wore a rainbow box as a red carpet look is about to strike again, rest assured.