Michelle Obama & Queen Elizabeth Bonded Over The Most Relatable Style Qualm
Shutterstock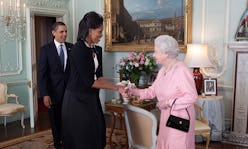 Not many could get away with making a major faux pas in front of the Queen, but the ever-charming Michelle Obama did and lived to tell the story. The former first lady dished out so much juicy info — from her first kiss with Barack to her darkest days in the White House — in her new memoir, Becoming, which just dropped on Amazon on Nov. 13. The tell-all book reveals the real story behind her iconic photo with the royal, and it has to do with Michelle Obama and Queen Elizabeth's heels.
There are strict guidelines to follow in the presence of the Queen, including addressing her as "Your Majesty," giving her a respectful curtsy, and avoiding physical contact at all costs — unless your name is Michelle Obama, and then you can pretty much do what you want. A photo of the then-first lady with Elizabeth II surprised many when it originally circulated in 2009. The picture was taken during a reception at Buckingham Palace and showed an extremely rare moment: Obama was hugging the Queen.
According to her hot-off-the-press memoir, however, the embrace came immediately after the Queen commiserated with the first lady about her painful shoes. Obama wrote that the Queen had commented that those kitten-heeled pumps she was wearing looked like they must feel "unpleasant," and said that her heeled loafers were in fact giving her sore feet, too. One thing led to another and before they knew it, there they were: two of the most powerful women in the world literally leaning on each other for support, both physically and emotionally.
Obama admitted in her memoir that she wasn't all that up to date on royal protocol during her meeting with the Queen. In fact, she didn't have a clue that it was bad etiquette — or, rather, against the rules — to touch the Queen, but you simply can't blame her. After all, it was the couple's first time meeting the royal family less than three months after Obama had been inaugurated.
But although unexpected, the side-hug seemed welcomed by Elizabeth II, who was 82 years old when the picture was taken. Photos from Obama's later trip to the UK in 2011 show the two rekindling their acquaintance with the sweetest smiles. It looks like the former first lady made a lifelong friend in the Queen, and all because of sore feet. Isn't it amazing what a painful pair of shoes can do?
Obama's book became the top seller on Amazon the very first day it became available. The Washington Post reported that Becoming was the most preordered book at Barnes & Noble since Go Set A Watchman by Harper Lee, which released in 2015. The best-selling memoir chronicles her life from growing up in Chicago to balancing motherhood with world politics and more. If you don't pick it up to discover what it was like to be in the spotlight during some of America's most harrowing moments, at least pick it up to read more about her famous moment of bonding with the Queen.