Meghan Markle Stunned In All-White Dior During Archie's Christening
Pool/Getty Images Entertainment/Getty Images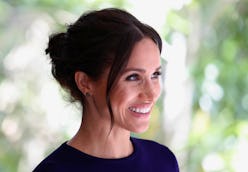 Since Archie was born, the duchess' fashion parade has been on a hiatus. Fans are so desperate for her outfit inspiration that they've been counting down the days until her appearance at the baby's baptism. Finally, photos from the event have surfaced and Meghan Markle's outfit at the royal christening was everything you hoped it would be.
Sat. was a historic day for the Windsors. Two-month-old Archie was baptized amid the royal family in the Queen's private chapel at Windsor Castle. It was a moment that we, commoners, have been looking forward to for a long time, particularly because of whatever outfit Markle was bound to show up in.
The duchess seems to pull out all the stops for special occasions like these, so there was reason to believe her outfit would be noteworthy. In years' past, Kate Middleton's looks at her three children's christenings became immediately iconic. Markle could have either followed her lead or paved her own path, as she so often does. In the end, she adhered to her sister-in-law's traditions after all.
As you know, the duchesses' styles are vastly different. Middleton's aesthetic could be defined as girlish and fun, while Markle's is sophisticated and sleek. The one thing they do have in common, however, is their mutual love for an all-white outfit.
For the momentous occasion, Markle opted for a crisp white dress by Dior and a matching fascinator. The dress was simple but so elegant, featuring a wide neckline, half sleeves, and a fit-and-flare skirt. The last time she wore Dior was during her and Prince Harry's final trip as a family of two (coincidence?).
The duchess sported a custom cream-colored caftan by the brand to a reception in Morocco. Whether or not intentionally, Markle's monochromatic white ensemble follows suit with Middleton's similar christening outfits in the past.
This new tradition of the mother wearing a white dress to her child's christening is a sort of new thing in the royal family, seeing as Princess Diana sported bright pink to Prince William's and navy blue to Prince Harry's baptism ceremonies.
Then again, the new mom may have decided on the neutral color all on her own. She did choose a sleeveless coat dress of the same hue by Wales Bonner during the baby's debut two months ago, after all.
Perhaps we'll never know why she chose the stunning Dior dress, but we can be glad she did. Now, time to stare at these new royal family photos all day long.