Meghan Markle Just Wore The Versatile Piece Your Fall Wardrobe Needs
Chris Jackson/Chris Jackson Collection/Getty Images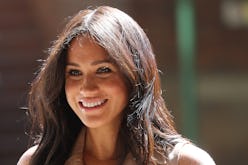 The Duke and Duchess of Sussex's tour of Africa is coming to a close on Oct. 2, so now's officially the ideal time to play royal style catch-up. The couple's calendar has been jam-packed with events, which means plenty of outfit changing were occurring throughout the day — and as such, it was near impossible to keep up with every one of the duchess' ensembles. But, if there is just a single look you commit to memory, have it be Meghan Markle's trench dress outfit for two reasons. First, said frock hails from an affordable retailer you likely shop nonstop and secondly, it's a must-have transitional piece you can wear in so many ways this fall. Now that's a true wardrobe win-win, no?
On Oct. 1, Markle headed out for a busy day of events, which started off with a roundtable talk with the Association of Commonwealth Universities (of which she is a patron) at the University of Johannesburg. There, the duchess spoke with students about the importance of gender equality and education.
"Higher education is such a key element for growth — economic growth, and personal growth and development," Markle said during the discussion. "When a woman is empowered, it changes absolutely everything in the community."
Aside from sharing wise, inspiring, and powerful words, Markle also served up a standout fall look for her recent Johannesburg outing that the fashion-minded seem to be copying in droves. The hero piece in her look was a khaki-colored double-breasted trench dress that actually hails from Banana Republic (yes, you read that correctly). Turns out this royal is a fan of the affordable retailer, too.
Markle has been quite keen to blazer dresses in the past, so this Banana Republic find seems like a natural addition to her wardrobe. It's slightly more casual than others she's worn, which is exactly what makes it a must-add to your daytime fall lineup.
While the Meghan Markle effect has made it near impossible to get your hands on anything the royal steps out wearing, this particular frock is still in stock in several sizes and in various colors, too. In addition to the duchess' khaki hue, it also comes in a classic black and a crisp white. Best of all, though? For a mere $139, you can emulate Markle's look for yourself. The duchess' exact Banana Republic dress, plus more like it, below.
Shop The Look