Meghan Markle Is Launching A Clothing Line — Here's Everything You Need To Know
Shutterstock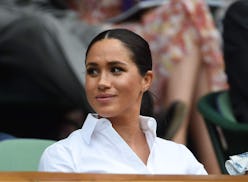 Go ahead and call the Duchess of Sussex a guest editor and fashion designer because — brace yourself — Meghan Markle is launching a clothing line (this is not a drill). According to the upcoming issue of British Vogue that she helped curate, the duchess will be dropping a collection of workwear in partnership with Marks & Spencer, among other brands, that will benefit her patronage, Smart Works. In fact, you could be wearing one of the royal's pieces by the end of the year.
Since the day Prince Harry proposed to her, Markle's fashion choices have been headline news. Her clothes have a way of selling out within minutes of her wearing them, a phenomenon that's been dubbed by the industry as "The Meghan Markle Effect."
The former actor had no problem keeping up with the standard of style her late mother-in-law Princess Diana and sister-in-law Kate Middleton had already set. Actually, her chic and sophisticated aesthetic has proven to be a royal one of a kind, setting her apart from the rest.
You can expect the duchess to have an even bigger impact on fashion now that a Meghan Markle clothing line is in the works. The palace announced earlier in the week that she had spent the past seven months helping British Vogue's Editor-In-Chief Edward Enninful curate the Sept. "Forces for Change" issue.
In the magazine, which is set to hit newsstands Fri., Markle outlines plans to drop a collection of officewear this fall.
The line is a collaboration between Markle, Marks & Spencer, John Lewis & Partners, Misha Nonoo, and Jigsaw. For every piece bought, another piece will be donated to a charity the duchess adores called Smart Works. The UK-based nonprofit provides women with professional attire for job interviews.
"Throughout her visits [to Smart Works] she noticed that while the donations were plentiful, they were also notably a combination of mismatched items and colours which weren't always the right stylistic choices or sizes that didn't necessarily 'suit' the job at hand," the palace said in Weds.'s Instagram announcement.
So, the duchess has taken it upon herself to provide these women with "the key workwear essentials" to make them feel stylish and confident as they enter the workforce.
"Not only does this [collection] allow us to be part of each other's story; it reminds us we are in it together," Markle was quoted in the latest "Forces for Change" issue of British Vogue.
To learn more about the upcoming collection (and read Markle's interview with Michelle Obama), pick up the magazine this weekend.